Fishing is one of the most relaxing things you can do in your free time, especially if it's done on a boat. But what kind of fishing boats should you consider for yourself?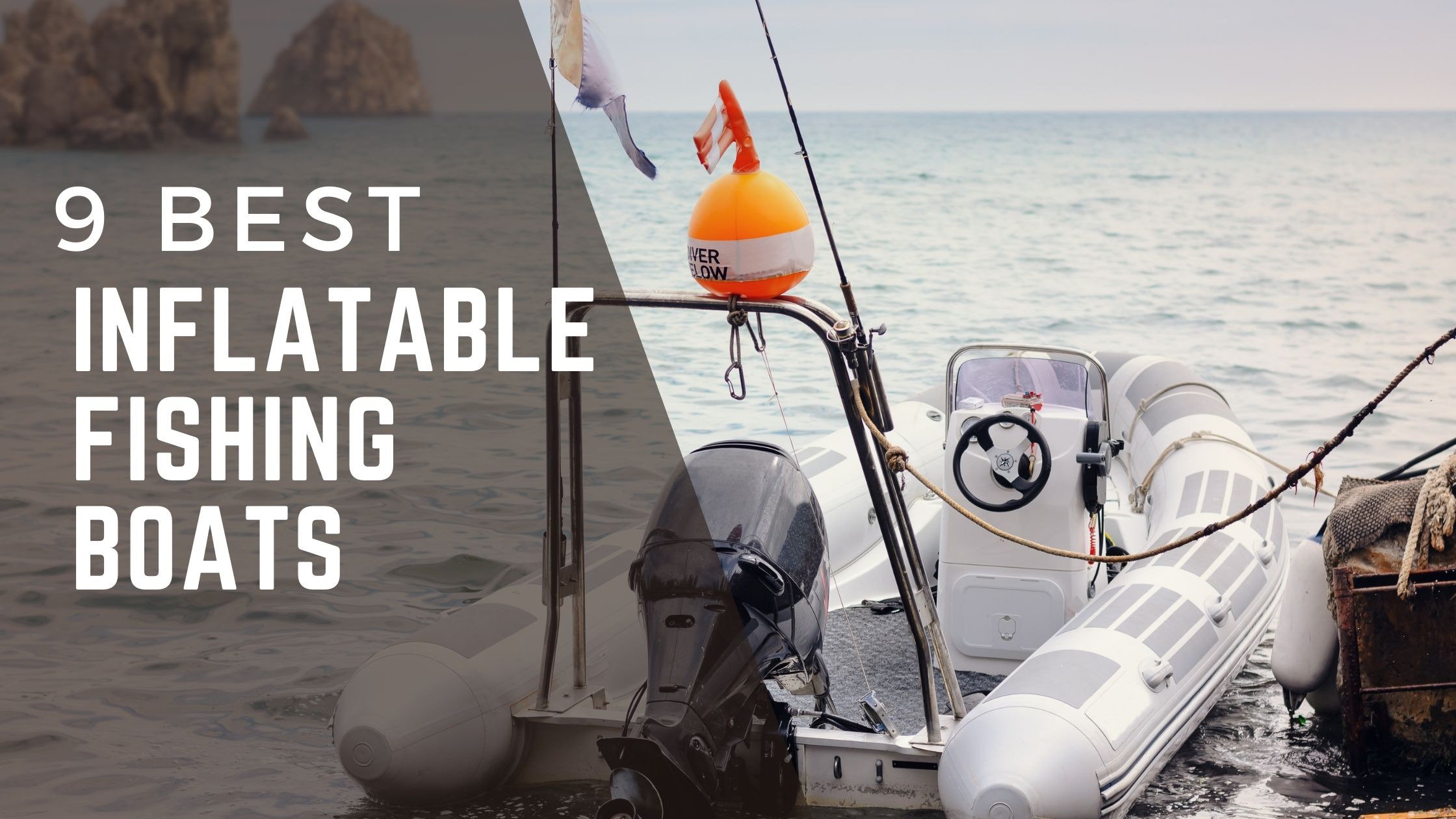 There are many considerations when finding the perfect inflatable fishing boat. You want something that's easy to carry around and won't break apart from getting wet while out on a small deck or dock with waves crashing against them all day long.
In this article, we will give an overview of the best 9 inflatable fishing boats and the things you should consider when buying one.
1. Intex Mariner 4 Person Inflatable Fishing Boat
This Intex Mariner 4 Person Inflatable Boat is a great option for those who are looking for a boat that can do it all. It's a good choice for fishing, as it has two-rod holders, and it's also perfect for recreational use. The boat is designed with a reduced footprint, making it easy to transport and store. It also has higher durability- the hull can handle bumps, scrapes, and scratches without any issue. Plus, the 2-ply construction means that you'll be able to enjoy this boat for years to come.
2. BRIS Inflatable Fishing & Dive 15.4 ft Power Boat
This is a great boat for those who are looking for a durable and reliable model. The BRIS Inflatable Rescue & Dive can hold up to two people and has a gas tank pad for securing the gas tank. It also includes an oarlock for rowing or paddling and eleven interior tie-downs for securing gear. The aluminum floor is 5 mm thick, while other materials include marine plywood transoms, double layers of fabric at the bottom of the tubes, deep V-keel with rub-strake protection, aluminum side joiners with rubber ends, and eleven interior tie-down stainless steel D-rings. This boat is constructed from aluminum and has HEAT WELDED seams for increased durability. It's more expensive than other boats but is still worth the price because of its durable seams.
3. Sea Eagle Green 375fc Blow up FoldCat Boat for fishing
This Sea Eagle FoldCat is a great fishing boat because it is fuel-efficient and lightweight. It can fit in many vehicles, including cars and SUVs. The aluminum frame folds up with the boat, so there is no wasting time with the additional assembly. Plus, it has a 3-year warranty and uses 1100 Decitex reinforced fabric.
4. Intex Excursion 5 Inflatable Boat For Fishing
The Intex Excursion 5 Inflatable Boat is a versatile, high-capacity option that performs well under different conditions. It can accommodate a maximum of four people and is puncture-resistant. Additionally, it has an I-beam floor for added rigidity. This inflatable fishing boat also boasts a Boston valve for easy inflation and deflation of the inflatable. It's manufactured to last for many years and comes with a fishing rod holder, a hand pump, and a transport carry bag.
5. Classic Accessories Colorado XTS Inflatable Fishing Pontoon Boat
This Classic Accessories Colorado XT inflatable pontoon boat is perfect for a one fisherman trip. It has tough pontoons with a PVC bottom and nylon top, and it is easy to store and haul. The removable side pockets and transport wheel make this boat an easy-to-use piece of fishing gear.
This is a portable boat that can be used as a gear bag in order to carry items while on the go. The inflatable pontoon boats are high enough off the ground so visibility isn't restricted, and they have built-in drink holders for convenience.
This inflatable fishing pontoon boat has a classic design that you can use for many different purposes. This is an affordable paddle and tube combo that allows you to explore the great outdoors from your own backyard or pool deck. There are a variety of different color options available, so you can choose one with your favorite style in mind.
6. Outcast OSG Stealth Pro Frameless Pontoon Boat
The Outcast OSG Stealth Pro Frameless Pontoon Boat is a great hybrid option that offers the best of both worlds. This boat can be used in still water or on more intense river trips, making it a versatile choice for any fisherman. Additionally, the Outcast Stealth Pro is also an ultralight option for big water overnight excursions.
This option has urethane bladders, whitewater quality valves, and durable PVC shell construction all built to last with an impressive load capacity of 450 pounds. The Outcast OSG Stealth Pro is a personal vessel that can accommodate up to 20 pounds of gear, such as rods and anchors. The boat has an IGSystem with PVC sleeves that can accept cargo pockets, rod holders, and more. The seat height is suitable for effective casting.
7. Newport Vessels Dana Inflatable Sport Dinghy
The Dana Inflatable Sport Dinghy is a great choice for those looking for an inflatable boat that can handle more load and options than other models. It is made from tough materials, supports tons of weight, and comes with aluminum oars instead of plastic ones. This option is also great for those who need better performance as it has a max motor output of 10 HP. However, if you are looking for a boat with more horsepower, you may want to consider another model as this one only has 8 HP.
8. AQUOS Heavy-Duty 7.5 ft Inflatable Pontoon Boat with Grab Bar, Folding Seat and Trolling Motor
This boat is perfect for fishing enthusiasts who want a durable and stable option without all of the bells and whistles. The AQUOS Heavy-Duty 7.5 ft Inflatable Pontoon Boat with Grab Bar, Folding Seat, and Trolling Motor has a weight capacity of 374 pounds and comes with a folding seat, trolling motor, and lean bar. It's important to note that this boat is not recommended for long distances because it lacks many of the amenities found on other boats.
The pontoon design offers stability in choppy waters, while the expansive floor provides plenty of room to move around when casting your line or netting your catch. There are also no oar locks on this boat, so you'll have to paddle it yourself which can be difficult in certain situations. This is a great option for solo anglers or fishing pairs poling or trolling around low-energy tidal flats, estuaries, and lakes.
9. Airhead Angler Bay Inflatable Boat
The Airhead Angler Bay is easy to inflate and deflate with its patented Speed Safety Valves. This boat is excellent for fishing. It's easy to inflate and deflate, which is great for taking on camping trips. The Angler Bay raft comes with rod holders, oar holders, and molded drink holders. It has three air chambers for security and stability, though it's not as safe or stable as the manufacturer claims because most users report that it only holds 2-3 people (not 6). This boat is perfect for people who are on a budget.
What is the best inflatable fishing boat?
There is no one-size-fits-all answer to this question. It depends on what you are looking for in an inflatable fishing boat. Some factors to consider include size, portability, durability, and price.
There are a few factors to consider when looking for the best inflatable fishing boat. The most important thing to think about is your budget and the experience levels of those who will be using the boat. In addition, you need to take into account what type of water you will be fishing in as well as what kind of fish you're trying to catch.
Inflatable fishing boats are a great option for people who want to fish but don't have the funds to invest in a traditional fishing boat. Inflatable boats are all durable and easy to transport and use, making them suitable for all types of fishermen including beginners. Our favorite inflatable boat is the Intex Mariner 4 Inflatable Boat Set on account of its size, ease of transport, and price point.
Inflatable fishing boats have several disadvantages including being less durable than other types of boats and not being as stable on the water. However, they make up for these drawbacks with their low cost and portability. If you're looking for safety when using an inflatable boat, think about what material your next purchase will be made from like how strong it is against punctures or how long it lasts before needing repairs (how long does inflation last?).
Are Inflatable Boats Worth It?
Inflatable boats have been becoming increasingly popular in recent years, and for good reason! They are a more affordable option than a traditional solid frame boat, and they are portable without the need for a truck or trailer. In addition, many inflatable boats come with some of the comforts and utility of a premium boat, but at a fraction of the cost.
The Intex Intex Mariner is one of the most affordable inflatable boats on the market today. It is made of rugged PVC vinyl that is resistant to abrasions, sun damage, and impacts. This boat can hold up to four people with luggage, making it an ideal choice for a cheap dinghy used to tender between yacht and shore. The 3 air chambers ensure that the boat can withstand any serious punctures, while the sturdy craft is perfect for fishing or hunting trips.
Are Inflatable Boats Safe for Fishing?
Are Inflatable Boats Safe for Fishing? Yes, blow-up boats are safe for fishing activities as they offer a number of advantages over traditional fishing boats. Perhaps the most appealing characteristic of inflatable boats is their safety. Inflatables are very durable and can withstand significant wear and tear without sustaining damage.
What's more, if an inflatable boat does sustain damage, it is easy to repair. This ease of repairability is a major advantage over traditional fishing boats, which often require extensive repairs after even minor accidents.
Another key benefit of inflatable boats is that they are easy to manage and transport and they take up significantly less space than traditional fishing boats, making them ideal for those who lack the storage space necessary to house a larger vessel. And since inflatable boats can be transported without a trailer, they are perfect for those who want to fish in areas where bank access is not possible or too costly.
Finally, inflatable boats offer anglers unique opportunities to fish in places where other vessels cannot go. Due to their agility and maneuverability, inflatables can easily navigate through sloughs and holes that would be inaccessible to most other types of fishing boats. This makes them perfect for small game or waterfowl hunting as well as fishing.
Are inflatable boats in danger of sinking?
Is an inflatable boat in danger of sinking? The answer is no. Inflatable boats are as sturdy as hard-shell boats, but it is possible for them to sink like any other boat if not used carefully or maintained properly. While a blow-up boat can sink, this can happen if one of the air chambers gets punctured or if the boat takes on too much water.
However, because inflatable boats have multiple air chambers, it is usually still possible for them to stay afloat even if one of them gets damaged. If an inflatable boat does start to sink, it is usually easy to repair it.
Some people may feel safer in an inflatable boat than in a canoe or kayak because these vessels are less likely to tip over. In addition, they are easy to climb onto if someone falls into the water.
It is always recommended that kids and adults wear life jackets when using an inflatable boat, just in case something goes wrong. Whether or not you think they are safe largely depends on your own preference.
Who should own an inflatable boat?
Inflatable boats are perfect for a variety of users, including recreational boaters, anglers, hunters, and commercial fishermen. Inflatable boats are also great for use as backup boats, fishing boats, or a tender.
Inflatable boats are great for a variety of activities, such as fishing or swimming with children in the summertime. They're also perfect for use on calm waters. However, they should not be used in rough water. If you're looking for an inflatable boat that's good for getting wet, consider the Intex Explorer 200, which is perfect for beginners.
The ALEKO Aluminum is ideal for serious fishermen who need high stability, but it's not suitable for beginners still learning to fish with a kayak. If you're in the market for what should be your first inflatable boat, the AH Angler Bay would be best suited to your needs as they're affordable and easy to use with minimal instruction needed
What Type of Inflatable Boat is Right for You?
There are many different types of inflatable boats on the market, so it can be tough to decide which one is right for you. Consider your needs and budget when making your decision. If you need a boat that can handle rough water, then a rigid inflatable boat or RIB is a good option.
When looking to buy an inflatable boat, the first thing you need to determine is what type of activity you will be using it for. Fishing boats are generally good for 1-2 people and gear, while canoes offer more comfort for longer trips with gear. If you're looking for a smaller and more nimble boat, the kayak is your best option. It can fit in any vehicle when packed down, even a backpack!
If you're looking for a more casual experience on the water, then small inflatable boats are perfect for you. They often have amenities such as coolers, cup holders and oars mounted onboard for convenience. Rafts are great for recreational use and often have multiple chambers so that if one pops, the rest of the raft will still stay afloat.
What to Look For in an Inflatable Boat
When looking for an inflatable boat, you'll want to consider a variety of factors including the size of the boat, the type of boat, the materials used to make the boat, and the price. You'll also want to make sure you have the proper accessories to go along with your boat.
When looking for an inflatable boat, there are a few things you'll want to keep in mind. The size of the boat is important, you'll want to make sure it's big enough for what you need, but not too big or bulky that it's hard to transport. Additionally, consider the weight capacity and inflation time of the boat – you'll want to make sure it can hold enough people or cargo, and that it doesn't take forever to blow up.
Think about how you'll use your inflatable boat – what are its specific features? If you'll be using it mostly in water, then you'll want a model with a motor mount and oars.
Lastly, ask yourself if you'll be using the boat in different environments such as calm water River, or Sea with waves – and consider your needs accordingly. If you're not sure which type of inflatable boat is right for you, read through some of our reviews above!
Kayak
When looking for a kayak, you'll want to consider the following:
Are you looking for a fishing kayak, whitewater kayak, or recreational kayak?
Kayaks come in all shapes and sizes, so it's important to find one that is the right size and weight for you.
Kayaks are made from a variety of materials, including plastic, fiberglass, and wood.
Kayaks can range in price from $200 to $2,000+.
When considering these factors, be sure to keep your needs and budget in mind.
Dinghy
Look for a dinghy that is made of durable PVC and has an inflatable floor. This will ensure that your dinghy can withstand the rigors of being transported and inflated multiple times. Additionally, make sure that the dinghy has several air chambers, which will help to keep it afloat in case one chamber becomes deflated.
If you plan on using your dinghy for fishing or diving, you will need one that is larger than if you plan on using it for simply transportation. Likewise, if you plan on using your dinghy in open water, make sure that it is equipped with oars and a motor mount.
While there are many affordable options available, remember that you get what you pay for; opting for a lower-priced model may mean sacrificing quality or durability.
Buying The Best Inflatable Fishing Boat – What To Consider
When it comes to fishing, there's no doubt that having the right boat can make all the difference in the world. And when it comes to inflatable fishing boats, you want to be sure that you're getting the best possible product for your needs. So what should you consider before making your purchase?
First and foremost, think about what you'll be using your boat for. If you're just looking for a recreational vessel that will let you spend a few hours on the water each weekend, then almost any inflatable fishing boat will do. But if you plan on using it for serious fishing trips – or even competitions – then you'll need something with more features and capabilities.
Another important factor to consider is size: both how large of a boat you need and how easily it will transport. In general, larger boats are more comfortable but also tend to be heavier and harder to move around. Make sure to get one that's sized appropriately for your needs!
And finally, don't forget about comfort. A good fishing boat should have plenty of space for all your gear as well as features like rod holders and storage compartments that make life on the water easier.
Durability
Some boats are made from thicker materials and have more seams than others, making them more likely to hold up against wear and tear. It is important to find a boat that can withstand frequent use without developing any leaks or rips.
If you plan on taking your boat with you on trips, you will want one that is lightweight and easy to carry. Some boats come with carrying cases or straps that make transportation a breeze.
If you do not have a lot of room in your garage or shed, you may want to opt for a smaller model. By considering these factors, you can be sure to find the best inflatable fishing boat for your needs.
Material
The three most common materials are PVC, Hypalon, and Nitrylon. PVC is the cheapest and most common material used in inflatable boats. It is a good choice for beginners because it is durable and easy to repair. However, it is not as resistant to UV damage as Hypalon or Nitrylon. Hypalon is a more expensive but more durable material than PVC. It is resistant to UV damage and has a longer lifespan than PVC. Nitrylon is the most expensive material, but it also has the longest lifespan of all three materials. It is highly resistant to UV damage and can withstand even the harshest conditions
Transportability, Weight, and Storage
Some boats are heavier and harder to transport than others. If you don't have a large vehicle or if you plan on taking your boat on long hikes to get to the best fishing spots, you'll want to find one that is lightweight and easy to carry. Additionally, think about how much storage space you'll need for your boat and gear. Some inflatable boats fold up small enough to fit into a backpack, while others take up quite a bit of room.
Handling and Safety
Some boats have a carrying handle that makes them easy to transport, while others come with a storage bag that keeps everything together. You'll also want to make sure the boat is safe for use on the water. Look for features like an airtight seal and waterproof seams to keep you and your gear dry. Some boats even come with a built-in motor mount, so you can attach a trolling motor and head out on the open water.
With the right boat, you'll be able to enjoy hours of fun on the water without having to worry about safety or handling.
Maintenance
boats need to be cleaned and dried after each use. In addition, they should be inspected for damage at least once a month. If any repairs are needed, they should be carried out as soon as possible. Failing to properly maintain your inflatable fishing boat can result in serious damage and may even cause the boat to sink.
This will allow you to make quick repairs if necessary. Finally, always store your inflatable fishing boat in a dry place when not in use.
Can You Use an Inflatable Boat for Fishing?
Yes, you can use an inflatable boat for fishing, fishing boats have come a long way in recent years. Older versions of these boats were not tough enough to withstand the wear and tear that comes with fishing. But the new generation of inflatable fishing boats is incredibly sturdy and easier to use than ever before. They provide useful features like seats, rod supports, an accessories bag, and mounts for motors.
The biggest benefit of using an inflatable boat for fishing is its portability and ease of storage. Inflatables are much lighter than hard-shell boats, so they're easy to transport and store away when you're not using them. This also saves on transportation and storage expenses, which can be significant when you're traveling on your boat.
Another advantage of using an inflatable boat for fishing is that they're less costly than hard-shell versions. This allows you to spend more money on gear and accessories, which can be important when you're trying to outfit your boat for a successful fishing trip. Finally, inflatable boats are easy to carry in large duffel bags and can be stowed away easily in transport or on the car's trunk
The 5 types of fishing inflatable boats
You can choose a smaller boat for rivers and streams, or go with a larger boat if you're looking to fish in open water. You could also get an inflatable boat, which is a great option if you want something that's portable and easy to store. There are five main types of fishing inflatable boats:
Are inflatable dinghies stable?
Yes, inflatable dinghies are stable. In fact, they are more stable than rafts because they have u-shaped air bladders which keep them afloat. Additionally, their rigid hard floors and keel make them even more stable in the water. Some of the more popular inflatable dinghies even have a high PSI drop-stitched air floor, making them lighter than traditional hard-floor dinghies.
A light, compact design makes them easy to transport and store; however, they are heavier than simple rafts. This is because they combine the benefits of a raft with better maneuverability and controls. So whether you're fishing on a calm lake or in choppy seas, an inflatable dinghy will get you where you want to go!
How stable are inflatable boats?
Inflatable boats have become more and more popular in recent years. They are often seen as a cheaper and more portable option than traditional hard-shell boats. But how stable are they?
Well, it depends on the boat. Some inflatable boats are less stable than others, and some can even be dangerous if not used correctly. It's important to do your research before you buy one to make sure you choose a model that is both safe and comfortable for you.
That being said, most inflatable boats are actually quite stable when properly inflated and used in calm waters. They can be a great option for fishing, swimming, or just relaxing on the water. And because they're so portable, you can take them with you wherever you go!
How reliable are inflatable boats?
Inflatable fishing boats are becoming more and more popular these days. However, many people are wondering just how reliable they are. After all, they are made of fabric and air, which doesn't seem very sturdy!
Well, it turns out that inflatable fishing boats can be quite reliable, but there are a few things you need to look out for. First of all, make sure to read the reviews on Amazon (or any other site) before buying one. A lot of times, people will write about problems they had with their boat – whether it was a leaky seam or something else.
Also, be aware that the dimensions of an inflatable fishing boat can sometimes be a little different from what is listed on the website or in the description. The length and width might not be consistent from one boat to the next, so it's important to measure your space before making a purchase. And finally, remember that these boats aren't as sturdy as a traditional hard-shell boat, so don't try to stand on them or use them for too much weight!
Can you put a motor on an inflatable boat?
The answer to this question is a resounding yes! You can absolutely put a motor on an inflatable boat. In fact, many people do it every day without any problems.
However, there are a few things you need to take into consideration before doing so. For example, you'll need to register the motor with your state just like you would for any other traditional boat. Additionally, you'll need to use a transom board to mount the engine or motor onto your inflatable boat. Keep in mind that the weight of the motor counts towards the total weight limit of your boat. So, make sure you stay within the recommended limits which are the maximum amount of people that can be on your boat, their gear and motors combined, and their total weight.