At the close of an exhausting day, most of us yearn for a sanctuary, a place where we can shed the burdens of the day and immerse ourselves in sheer tranquility. That's precisely the sanctuary I discovered in the SaluSpa® Miami AirJet™.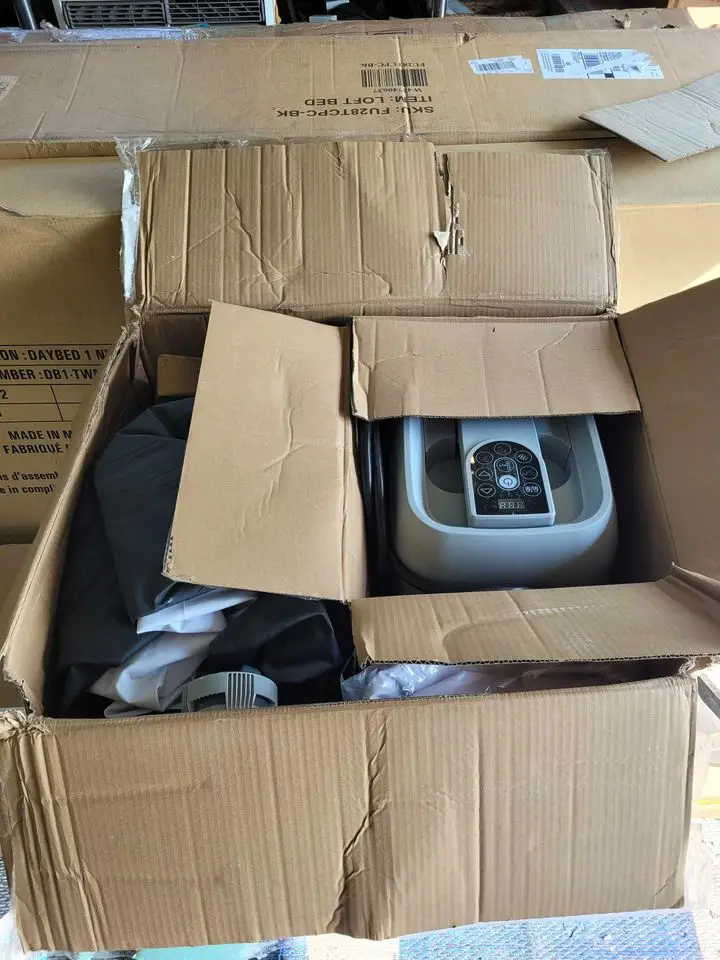 From the very first time, setting up this spa was a breeze. Within moments of attaching the pump, I witnessed my backyard transform into a personal wellness retreat. The Soothing Massage System became my nightly indulgence. With its 120 AirJets, every bubble that caressed my skin felt like a gentle, therapeutic massage, melting away my stresses and tensions.
I was initially skeptical about inflatable spas, given past experiences with products that easily got punctured or lost shape. However, the DuraPlus™ material on this spa set all those fears to rest. No matter how frequently I inflated or deflated it, the spa retained its pristine shape, showcasing its superior durability and quality. And come winter, while my neighbors packed away their outdoor accessories, the Freeze Shield™ automatic heating function ensured that my spa remained in top shape, immune to the ravages of cold weather.
What truly enhanced the experience was the easy accessibility. The digital control panel was always within reach, allowing me to adjust the water temperature up to a heavenly 104˚F. This spa wasn't just about soaking; it was about experiencing a holistic thermal therapy right in the comforts of my home.
The ChemConnect™ dispenser was another feather in the cap, ensuring my water remained pristine and healthy, eliminating the constant worry of manually managing chlorine levels. And for someone like me who loves to sip on a drink while relaxing, the spa pump's integrated cup holders were a delightful touch.
One cannot forget the reinforced cover – not only did it lock in the heat, ensuring my spa was ready whenever I wished to dive in, but it also kept unwanted debris and dust at bay.
For the skeptics considering size and capacity – this spa comfortably accommodates up to 4 adults. Perfect for those family spa days or a romantic evening soak under the stars.
In conclusion, the SaluSpa® Miami AirJet™ isn't just a product; it's a lifestyle change. It encapsulates the dream of having a personal spa oasis, promising relaxation, rejuvenation, and a touch of luxury. It has transformed my backyard, my evenings, and to some extent, my life. If there's one indulgence you consider this year, let this spa be it. Dive in, let the bubbles work their magic, and discover a realm of relaxation you never knew existed.
Ease of Use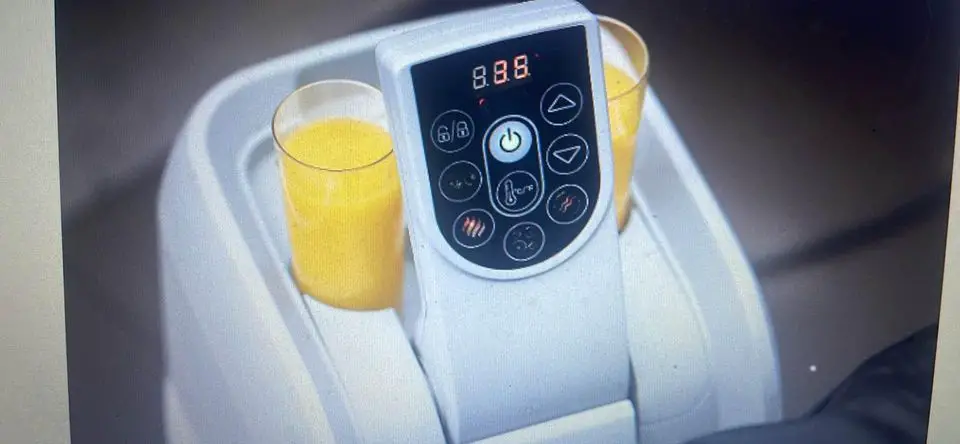 The SaluSpa Miami AirJet Inflatable Hot Tub Spa by Bestway has been designed with user convenience in mind. Firstly, the product includes a pump that makes the inflation process quick and easy. Users simply need to attach the pump, and it inflates the spa without any manual effort required.
The same pump also simplifies the deflation process, allowing for easy storage when the hot tub is not in use. Maintaining this hot tub's shape even after repeated inflations and deflations is not an issue due to its durable DuraPlus™ material, making it a hassle-free choice for users.
For additional assistance during setup or maintenance, a user guide is provided detailing each step clearly and methodically. This ensures that even first-time hot tub owners can manage their spa confidently without professional help.
Furthermore, assembly time for the hot tub has been noted as a straightforward experience. As stated by a customer named Gman in his review: "Easy to assemble, one person can do it no problem".
Overall, the SaluSpa Miami AirJet Inflatable Hot Tub Spa combines a suite of convenient features and tools – leading to its reputation as an easy-to-use option for those seeking relaxation within the comfort of their home.
Specification Details
Brand: Bestway
Product: SaluSpa Miami AirJet Inflatable Hot Tub Spa
Seating Capacity: 2-4 persons
Color: Black
Material: PVC
Voltage: 120
Shape: Round
Size: 71″L x 71″W x 26″H
Water Capacity (80%): 177 gallons
Key Features:
Soothing Massage System: The SaluSpa Miami AirJet features 120 jets that release bubbles from the bottom of the spa, creating a warm and relaxing hot tub environment.
Durable Construction: The inflatable walls are made of puncture-resistant DuraPlus™ material, providing superior durability and shape retention even with repeated inflation and deflation.
Easy Setup: The included pump inflates the spa, heats the water up to 104˚F, runs filtration, and controls the massage system. The digital control panel is conveniently located for easy access.
Freeze Shield™ Function: This automatic heating function protects the inner components from freezing during colder temperatures, allowing year-round enjoyment of the spa.
Power Saving Timer: The integrated timer allows you to control the temperature of your spa up to 40 days in advance, helping save energy and maintain efficient operation.
Reinforced Cover: The included cover locks in heat when the spa is not in use, while also keeping dust and debris away from the water.
Integrated Water Filtration System: Ensures clean and clear water by effectively filtering out impurities and maintaining water quality.
ChemConnect™ Dispenser: This feature ensures proper chlorine dispersion to maintain clean, healthy water.
Product Information:
Manufacturer: Bestway L&G
ASIN: B00HRT863U
Item Model Number: 60002E
Customer Reviews Rating: 4.3 out of 5 stars (6,328 ratings)
Best Sellers Rank: #4,722 in Patio, Lawn & Garden
Price:
New: $729.99
Used: $454.77
My best guess is:
| Feature | Specification |
| --- | --- |
| Brand | Bestway |
| Product | SaluSpa Miami AirJet Inflatable Hot Tub Spa |
| Seating Capacity | 2-4 Persons |
| Material | PVC, DuraPlus™ |
| Shape | Round |
| Color | Black |
| Size | 71″L x 71″W x 26″H |
| Water Capacity at 80% | 177 Gallons |
| Temperature Range | Up to 104˚F |
| AirJets System | 120 Jets |
| Heating Function | Freeze Shield™ Automatic Heating Function |
| Control Panel | Easy-To-Reach Digital Control Panel; Power Saving Timer up to 40 Days in Advance |
| Cover | Reinforced; Locks in Heat, Keeps out Dust and Debris |
Size and Capacity
The SaluSpa Miami AirJet Inflatable Hot Tub Spa features a roomy size with dimensions of 71 inches in length, 71 inches in width, and 26 inches in height. This generous sizing allows the hot tub to comfortably accommodate 2-4 persons. Users have mentioned that the size of the tub is suitable for most, providing ample space and comfort for both individuals and small groups to enjoy a luxurious and relaxing soak. The thoughtful design of the hot tub ensures it fits into most spaces while offering plenty of room for users to unwind.
Performance and Heating System
A key feature of the SaluSpa Miami AirJet Inflatable Hot Tub Spa by Bestway is its premium AirJet system. This system incorporates 120 jets that release warm air, creating a soothing bubble massage environment that promotes relaxation and stress relief.
Furthermore, the SaluSpa Miami AirJet permits users to heat water up to 104˚F. This ability ensures an optimal hot tub experience by maintaining a highly comfortable and therapeutic water temperature, enabling you to soak your cares away fully.
The hot tub also comes equipped with a Freeze Shield™ automatic heating function. Particularly notable for users living in colder climates, this feature prevents freezing during chillier temperatures. It works by automatically activating the pump's heating system when the water reaches low temperatures, thereby protecting the hot tub's inner components from damage due to freezing. With this functionality, you can use your spa year-round without worrying about cold weather conditions affecting its performance or longevity.
Construction and Durability
The SaluSpa Miami AirJet Inflatable Hot Tub Spa boasts superior construction and durability, a testament to Bestway's commitment to quality. The walls of the hot tub are made of DuraPlus™ material, known for its robust and durable nature. Importantly, this material is puncture-resistant, increasing the longevity of the tub and offering users peace of mind when it comes to potential damage.
The DuraPlus™ material has been rigorously stress-tested to ensure superior durability. This testing process underscores the hot tub's resilience and longevity, providing customers with a reliable and durable product that stands up to frequent use without compromising on performance or form.
Equally important is the hot tub's ability to retain its shape, even after repeated inflation and deflation. This aspect further demonstrates the quality and resilience of the materials used in its construction, ensuring that your investment maintains its shape and continues to provide an exceptional experience over the long term. Simply deflate for easy storage and inflate again without worrying about deformation or wear that could compromise your comfort or enjoyment.
Accessories and Convenience Features
A key accessory that comes with the SaluSpa Miami AirJet Inflatable Hot Tub Spa is the included pump. This pump serves a four-fold purpose: it inflates the hot tub quickly and easily, heats up the water to a soothing temperature, facilitates filtration for clean and clear water, and effectively controls the massage system for a personalized relaxation experience.
The convenience features of this hot tub extend beyond the multi-functional pump. Notably, the pump also has cup holders integrated into its design for added functionality. These cup-holders provide handy storage space for your drinks and snacks while you enjoy a relaxing soak in the hot tub.
In addition, the SaluSpa Miami AirJet includes an integrated water filtration system. This feature offers significant convenience as it continuously works to keep your spa water clean and hygienic for safe use. The integrated filtration system is a testament to Bestway's commitment not only to comfort and relaxation but also to the health and well-being of its users.
Maintenance and Chemical Dispenser
Maintaining the cleanliness of your hot tub water is made easy with the Bestway SaluSpa Miami AirJet Inflatable Hot Tub's included ChemConnect™ dispenser. This specially designed accessory works by evenly dispersing chlorine throughout the spa water, thus maintaining a consistent level of sanitation and ensuring that your hot tub is always ready for use.
Additionally, maintenance of this hot tub is straightforward with the provided VI filter cartridge. Regularly replacing the filter cartridge helps to extend the lifespan of the pump and keeps the water in your tub clean and crystal-clear. The simplicity of swapping out a used filter for a new one means that you can spend less time on maintenance tasks and more time relaxing in your spa. Ultimately, this focus on ease of maintenance enhances your overall hot tub experience by ensuring a hygienic environment without demanding significant effort or time.
Customer Reviews and Ratings
Bestway's SaluSpa Miami AirJet Inflatable Hot Tub Spa has received positive feedback from customers overall, as evidenced by an impressive rating of 4.3 out of 5 stars based on 6,746 ratings.
Esmeralda344, a verified purchaser, gave the tub a glowing review. They praised the hot tub's 104-degree temperature for providing immediate soothing and relaxation. Additionally, they highlighted the ease of setup, making it user-friendly right out of the box. Esmeralda344 further expressed satisfaction with the hot tub's overall performance.
Another noteworthy review comes from Celeste, who affirms the spa's durability and value for the money, having owned a SaluSpa hot tub before that needed to be replaced after several years of use. This praise underscores the hot tub's longevity and robust construction.
Customer Gman provided another positive critique, confirming that the inflatable hot tub is easy to assemble – a task manageable by one person. Gman also complimented the efficient heating system for its speedy heating up time.
These positive reviews highlight important features and benefits of the Bestway SaluSpa Miami AirJet Inflatable Hot Tub Spa, further reinforcing its good reputation amongst users and potential buyers.
Benefits
Easy Setup: Customers have praised the simple and quick setup process. The included pump inflates the spa without any additional tools or professional assistance.
Comfortable Size: With dimensions of 71″L x 71″W x 26″H, the hot tub can comfortably accommodate 2-4 persons, offering plenty of room for relaxation.
Soothing Massage System: The AirJet system includes 120 jets that release warm air, creating a calming bubble massage environment for stress relief and relaxation.
Effective Heating System: The ability to heat water up to 104˚F ensures an ideal hot tub experience with comfortable and therapeutic water temperature.
Durability: Made from puncture-resistant DuraPlus™ material, the hot tub is robust and retains its shape even after repeated deflation and inflation.
Convenience Features: The pump doubles as a cup holder for drinks and snacks, adding to the overall comfort and convenience during your spa experience.
Freeze Shield™ Technology: The Freeze Shield™ automatic heating function prevents freezing in colder weather, facilitating year-round use of the spa.
Maintaining Water Cleanliness Made Easy: The integrated ChemConnect™ dispenser evenly disperses chlorine to maintain clean water, while the VI filter cartridge allows for easy upkeep of water clarity and sanitation.
Cost-Efficiency: Reviewers note that given its features closely rival those of more expensive hard-shell models, this inflatable hot tub offers great value for money.
Positive Customer Ratings & Reviews: With over 6,000 ratings averaging at 4.3 out of 5 stars, customers express satisfaction with their purchase overall, citing factors like durability, effective temperature control, easy assembly, and maintenance simplicity as key benefits.
Portable Design – As an inflatable hot tub spa, this unit is readily portable allowing users flexibility in changing locations whenever necessary without complex disassembling process typical of permanent outdoor Spa units.
Conservation Capacity – Comes with a reinforced cover that helps conserve heat by locking it in when not in use and thereby enhances power saving capacity of the unit through reduced energy consumption.
Drawbacks
Limited Seating Capacity: While suitable for 2-4 persons, some users found the seating capacity to be on the smaller side, especially when accommodating four adults comfortably.
Maintenance Requirements: Although the ChemConnect™ dispenser and filter cartridge simplify water maintenance, a few customers mentioned that keeping the water balanced and clean still requires regular attention and periodic chemical adjustments.
Longevity: Some reviewers expressed concerns about the long-term durability of an inflatable hot tub compared to traditional hard-shell models. While it offers good durability for an inflatable spa, it may not have the same lifespan as more permanent options.
Noise Level: A few customers noted that the pump can generate noticeable noise during operation, which could potentially disrupt a peaceful atmosphere or disturb nearby neighbors.
Limited Temperature Control Options: While the heating system can reach up to 104˚F, some users wished for more precise temperature control options to fine-tune their desired comfort level.
Inflatable Nature: Being an inflatable hot tub, it does require proper care and maintenance to prevent accidental punctures or damage from sharp objects, which some customers found challenging to avoid in certain scenarios.
Electrical Outlet Requirement: The hot tub requires access to a 120-volt electrical outlet for operation, which may limit its placement options depending on outdoor spaces available near power sources.
It is important to note that while these drawbacks exist, they tend to be outweighed by the positive features and overall value provided by the SaluSpa Miami AirJet Inflatable Hot Tub Spa. User experiences and satisfaction levels may vary depending on individual preferences and requirements.
Pricing Evaluation and Availability
The SaluSpa Miami AirJet Inflatable Hot Tub Spa by Bestway is priced at $729.99 for a brand-new unit, which represents a fair investment for the robust features and high quality the product offers.
For those looking for more budget-friendly alternatives, used options are also available at a significantly lower price of $454.77. This variety in pricing broadens accessibility to the hot tub spa, making it a more feasible choice for a wider range of budgets.
Please note that prices may vary based on market fluctuations and availability. It's always a good practice to check specific retailers for the most accurate and current pricing data.
Conclusion
The SaluSpa Miami AirJet Inflatable Hot Tub Spa by Bestway stands out for its range of impressive features. Its key strengths include a soothing massage system with 120 jets, robust construction with durable DuraPlus™ material, ease of setup and use, and a thoughtfully included pump that doubles as a convenient cup holder. The Freeze Shield™ automatic heating function enables the hot tub to withstand colder temperatures and ensures year-round enjoyment. Additionally, its integrated water filtration system and ChemConnect™ dispenser contribute to simplified maintenance and clean water.
These attributes have resulted in largely positive customer feedback for the product's overall performance, durability, satisfaction with the heat levels, straightforward setup process, ease of maintenance and assembly, as well as the spa's inherent value for money.
As we reflect on these considerations, prospective buyers looking for a reliable option for relaxation in their own backyard may find that the SaluSpa Miami AirJet Inflatable Hot Tub Spa meets their needs very well. Its combination of features provides an appealing blend of comfort, convenience and quality that enhances leisure time and contributes to overall wellness.