Best 5 Person Inflatable Boat: The Best Way To Have Fun On Your Next Family Vacation
Are you searching for a fun watercraft to ride on? You should consider the best five-person inflatable boats that can please your family or friends. The inflatable boats are suitable for your next summer vacation for anyone who wants to have the best watercraft experiences with other people.
This article provides information about inflatable boats and their uses. It also gives tips on how to choose the right type of boat for your needs, as well as when it would be best not to use an inflatable boat.
Intex Excursion 5 Person Inflatable Boat Set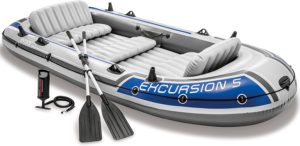 The Intex Excursion 5 person inflatable boat set is perfect for your next family vacation. It is made of rugged, welded vinyl for long-term durability and can hold up to 1,000 pounds. It is also lightweight and compact, making it easy to transport.
This five-person raft assembles and inflates in just minutes, getting you quickly from the car to the water. Made of rugged, welded vinyl for long-term durability; inflatable I-beam floor for comfort and rigidity. Includes two inflatable seats with backrests, four fishing rod holders, oarlocks and holders, motor mount fitting. Grab handle and 360-degree grab line, gear pouch and repair patch, quick-fill Boston valves; comes with 54″ aluminum oars and high output hand pump. Five person raft measures 66 x 17 x 144 inches (W x H X D) with 57 inch blade width
The Intex Excursion 5 Person Inflatable Boat Set is a 6-pound weight and 1,000-pound maximum weight limit. It's light enough for easy portability and ready to go in no time.
Intex Recreation is a global leader in designing and producing innovative products for indoor and outdoor recreation. All Intex products meet the most stringent safety standards by undergoing intensive testing to ensure years of safety and satisfaction.
Quality of raw materials, calibration of machines, manufacture, and assembly are all critical factors in the production of Intex Recreation's high-quality products. Additionally, rigorous product testing is conducted on each item before it is packaged and shipped to consumers.
Benefits:
Good for fishing and playing around the lake.
Good for its price.
The boat is easy to row for anyone, even beginners.
The boat can handle a lot of wear and tear
The material that the boat is made out of is durable.
It can handle 5 adults with ease.
How much weight can an inflatable boat hold?
An inflatable boat can hold a maximum weight of about 1,500 lbs.
When looking for an inflatable boat, it's important to consider how much weight the boat can hold. This is especially important if you plan on bringing along a lot of gear or equipment. Some boats are able to handle more weight than others, so be sure to do your research before making a purchase.
It's also important to remember that the maximum capacity for an inflatable boat is often overstated by manufacturers. So, be sure to double-check the weight limit before loading up your new boat with supplies.
Finally, many inflatable boats come with motor options. If you're interested in using a motor with your boat, be sure to check that it's compatible with the model you're considering buying.
How sturdy are inflatable boats?
Inflatable boats are sturdy and can hold up to a lot of wear and tear. They are often made of heavy-duty PVC and can be very durable.
Inflatable boats have become a popular choice for many people because of their affordable price and portability. However, some people may be wondering how sturdy these boats are. In general, inflatable boats are sturdy and built to last.
PVC bottom boats are more reliable for calm waters, but they aren't appropriate for rough water activities such as lake fishing or boating.
The longevity of inflatable boats is largely dependent on the type of boat, how it's used, and how it's cared for. If you're looking for an inflatable that will last for years, then you should consider purchasing a RIB instead of a PVC-bottom boat. However, keep in mind that even RIBs can suffer damage if they're not properly taken care of.
Inflatables can be just as safe as traditional boats in open waters. However, it is highly unlikely that they can survive a puncture. It's still important to wear a life vest for extra safety when in open waters because inflatable boats can capsize easily.
What is excursion 5 made of?
The excursion 5 is made of sturdy vinyl that can withstand sharp objects on the shore, like rocks or other debris. This makes it perfect for your next family vacation and ensures you'll be able to have some fun without worrying about the safety of your boat. In addition, the vinyl is easy to inflate and deflate, so you can get set up in no time!