Are you looking for the best inflatable docks or the best dock platforms to buy for your watercraft in September 2022? To help you find the ideal heavy-duty inflatable floating dock for your boat, pool, beach, and ocean adventure or inflatable swim platform, this guide provides an overview of eight top-rated models as well as key buying considerations.
Inflatable floating docks or boat docks are a great alternative to traditional wood docks. Made from tough PVC, inflatable docks are extremely durable and low maintenance. They can be used for any type of watercraft, including jet skis, powerboats, swim platforms, and even sailboats. They are much easier than traditional docks to store, transport and set up. Before we dive into the best 8 Inflatable boat docks, let's look at what an inflatable dock is and what it is not.
Check out our 8 best inflatable covers for boats
Best Inflatable floating Docks review: Our Top Picks
1. Happybuy inflatable floating dock – Heavy-duty Inflatable Dock for swimming and Boat Dock Platform With Air Pump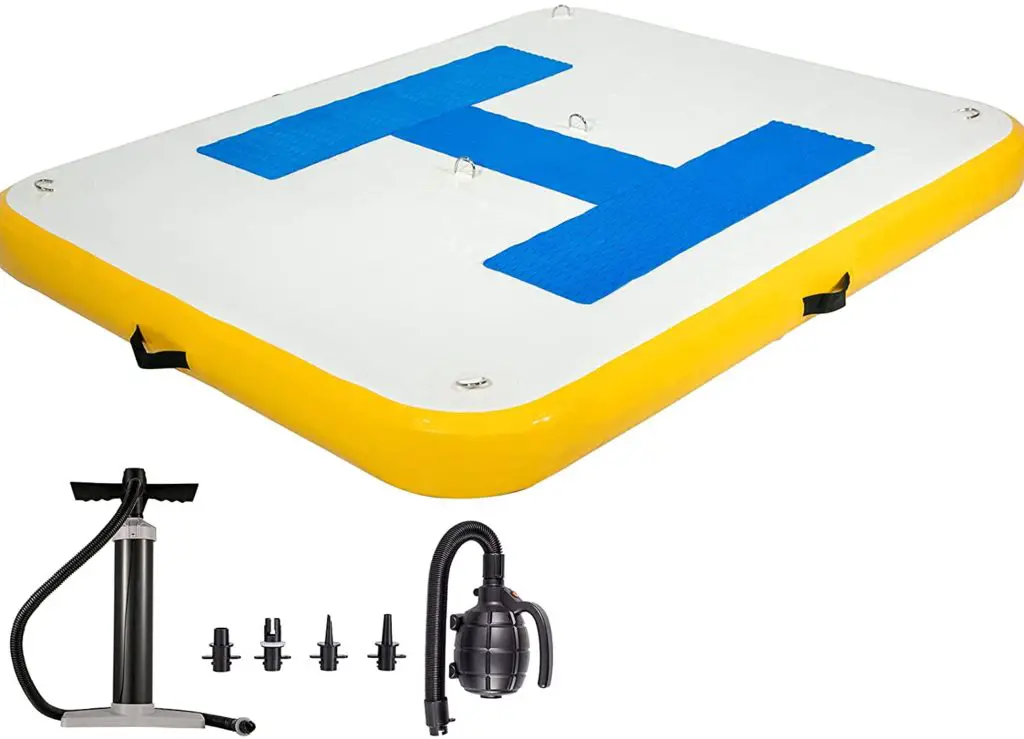 The Happybuy heavy-duty inflatable is a versatile and flexible inflatable dock and is a great accessory for your boat or water activities. You can attach it to the vessel's side or use it independently as a floating dock platform for swimming. With heavy-duty PVC material, this inflatable boat dock has an adjustable bungee system that lets you secure your board in place while out on the water. It has a large inflatable platform and non-slip materials that make this dock outstanding. It is also very easy to store and transport.
2. Solstice Inflatable Dock, Inflatable Floating Platform For Beach, Lake & Pool
The Solstice's Inflatable floating docks are not just any ordinary inflatable. When inflated, experience a lightweight and rigid surface – the applications are endless for these inflatable platforms. Perfect for lounge chairs, coolers, and hours of fun on the water. Simply inflate and tie to the back of your boat to extend your on-water real estate by an additional 40 square feet.

The inflatable platform is a 4-6 person recommended capacity that supports standing adults. Working on your boat has never been easier – simply tie to the side of your boat, utilize the middle D-rings to tie down tools, and maneuver around effortlessly.
Inflatable Drop Stitch technology makes it incredibly easy to deflate, fold, and store back in the included bag – perfect for storing in small spaces. Complete Set: Comes with a dual-action hand pump with pressure gauge, carry bag, six stainless steel D-ring tie downs, 6 reinforced grab handles, 1 repair kit, and 1 high pressure inflate/deflate HR valve.
3. Healthy Infusions Island Hopper Dock
Another well-built product, the Healthy Infusion, is great for big boats or swimming platforms for more than 5 people. It is made of heavy-duty PVC material with a non-skid surface that makes it safe for everyone. This inflatable boat dock can be used as an additional deck or as a standalone floating platform and comes with its storage bag.
4. FirstUp Productions Sirocco 2 inflatable dock for boats
 If you're looking for something bigger than the usual inflatable boat docks, this is the product to invest in. This versatile dock can attach to your pontoons or work independently with adjustable height features. It can also rotate 360 degrees so you can perfectly position your vessel where you want it without worrying about bumping into another one. The Sirocco dock has heavy-duty flexible tubes designed to last for years of use.
5. Tower Paddle Boards SUP Raft 2.0
If you're more into stand-up paddleboarding, this is the inflatable boat dock to go for. Made of vinyl PVC, this highly versatile rack can also be used as a floating platform or pontoon on your boat or its owner. The multi-purpose dock has an adjustable bungee system that holds your board in place while you are out on the water and deflates easily for storage when not in use.
6. Drift Inflatable Floating Dock 10×10
It is a versatile and flexible dock that can suit several uses. For example, it floats like an inflatable boat dock, but you can also attach it to your pontoons or use it as a pontoon. It comes with its storage bag, and the PVC material is resistant to punctures, tearing, and UV rays. The inflatable floating dock is quite outstanding as it is very easy to inflate. It also has a sling which is very useful for transport and storage.
7. Aquaglide Inflatable Floating Dock
This inflatable boat dock is specifically designed to float on the water. It has three attachment points so you can attach them to your pontoons, boards, or any other floating structures. The heavy-duty vinyl material of this inflatable dock makes it durable and easy to transport with its storage bag that comes with the product. It also has vacuum fun that helps to create a resort-style playground. It also makes an ideal replacement for foam mats.
8. Island Hopper Inflatable Dock Platform
It has non-skid surface, springs, and adjustable height for an extra tall boat, and is one of the best inflatable boat docks to go for. You can use it to float your boat independently or attach it to your boat to create increased deck room. It is made with durable PVC material that can withstand heavy use. The inflatable dock has an anchor point to attach your boat to the dock and comes with a nylon bag for easy storage.
Inflatable Boat Comparison Table

An inflatable boat dock can either be made of PVC or rubber. They are similar to their hardshell counterparts because they perform the same functions – they keep your vessel afloat and secure it from the outside elements, such as other boats, docks, rocks, etc.
While there are a lot of differences between the two, inflatable boat docks are popular because of their ease of storage and transportation. They can be deflated and put away in a closet when not in use – making them ideal for the boater who lives on only one lake or only uses their boat seasonally.
Factors to Consider when Purchasing an Inflatable Dock
If you're looking to buy an inflatable boat dock, here are some of the most important factors you need to consider:
Size and shape
Most people prefer inflatable boat docks over hardshell because they are easier to carry. They also offer more storage space for your needs. Ideally, they are modern versions that make your work very easy and are quite durable.
Portability
Keep in mind that if you have a large vessel, an inflatable boat dock might not be right for you. You'll need to see if the product you are buying is ideal for both your boat and the lake. For smaller boats, the inflatable boat docks are quite outstanding due to their portability.
Durability & Quality
The best inflatable boat docks are made of quality materials that are durable, strong, puncture-resistant, and light. They should also have a solid construction that allows them to hold up against normal wear and tear. Ensure you check the quality of the materials of the dock before purchasing.
Functionality
You want to ensure that your inflatable boat dock is built of sturdy material, with flexible tubes to prevent tearing. It should have a non-skid surface, so it's safe for you and others around. It can also be equipped with springs on the anchor points, so your boat doesn't bump against the platform.
Price
Inflatable boat docks range from $400 to over $1000. The price depends on the materials, size, and requirements of what you intend on using it for. A more expensive inflatable boat dock will have a better quality of workmanship, so be sure to look at what you're paying for before making a purchase.
Conclusion
The best inflatable boat docks are versatile, durable, and high-quality products. You can choose one based on your needs and preferences from the products mentioned above. In the selection process ensure that you check the materials used to make the inflatable dock. Ensure that the item you select is easy to carry and store. You should also consider the price of the dock, ideally, you can purchase from online stores such as Amazon.
We hope that you have found the information which you were looking for in this article about the best inflatable boat docks. We have taken the time to research and look at the best inflatable boat docks and have presented them to you so that you can see them all in one place. If you need any further information about the products in this article or if you have any questions, please leave a comment below and we will get back to you as soon as we can.