Are you looking for the best inflatable docks or the best dock platforms to buy for your watercraft in August 2023? This guide provides an overview of eight top-rated models and a comprehensive buyer's guide to help you find the ideal heavy-duty inflatable floating dock for your boat, pool, beach, and ocean adventure or inflatable swim platform.
What is an Inflatable Dock?
An inflatable dock is a flat, floating platform that can be used for all purposes.
These inflatable objects are smaller than actual docks and are not as strong. However, they can anchor firmly to act as a stable, float platform. You can attach an inflatable dock to your boat to extend the deck and legroom, drag it behind kayaks or use it as a free-floating podium for swimming or relaxing under the sun. When securely anchored, inflatable floating docks are perfect for docking your kayak or other water toys. An inflatable dock also serves as a swim platform in the ocean or on lakes, so you can relax mid-paddle with ease!
Inflatable floating or boat docks are a great alternative to traditional wood docks. Made from tough PVC, inflatable docks are incredibly durable and low maintenance. They can be used for any type of watercraft, including jet skis, powerboats, swim platforms, and even sailboats. They are much easier than traditional docks to store, transport and set up. Before we dive into the best 8 Inflatable boat docks, let's look at what an inflatable dock is and what it is not.
Who needs an Inflatable floating dock?
Boaters
Fishermen
Jet skiers
Watersports enthusiasts
Lake, river, or ocean recreational users
Homeowners with a waterfront property
Buying Guide: 12 Factors to Consider when Purchasing an Inflatable Dock
1. Size and Capacity
When considering the size of an inflatable boat dock, it is important to take into account how many people will be using it and how much gear you are bringing. Smaller docks measure around 5 by 5 feet and can carry around 2 to 3 people, while larger ones can reach up to 10 by 10 feet or more and can fit a maximum of 8 people.
It is also important to consider the shape of the dock as some prefer square docks while others like rectangular ones that easily seat plenty of people side by side. Additionally, manufacturers will state the total weight capacity of each dock in their specifications so that you know what load you can safely put on it without risking safety or sinking due to overloads.
2. Level of Inflation
An inflatable boat dock is a portable watercraft that floats on top of the water. It is designed to be inflated and deflated quickly, allowing it to be taken anywhere and set up quickly.
The level of inflation for an inflatable boat dock depends on the model you are using. In general, most docks need to be inflated to around 15 PSI (pounds per square inch) in order to provide sufficient buoyancy for use. To achieve this level of inflation, an electric pump should be used, as manual pumps may take longer and require more effort. Additionally, some models offer additional accessories such as a soft rope ladder or auto-set pump, which may increase their overall cost but also make them more durable and comfortable when in use.
3. Attachments
Inflatable boat docks can be equipped with various accessories to make them even more useful and convenient. These include:
• D-ring attachment points – for securing the dock in place.
• Anchor lines – for mooring the boat or yacht in shallow waters.
• Swim ladder – for easy access into and out of the water.
• Cup holders – to hold drinks or other items while on board or floating around in the water.
4. Design and Print
When buying an inflatable boat dock, it is important to consider the size, weight, price, durability and comfort of the product. You should also make sure that the boat has a safe design that is easy to use and store.
When comparing different inflatable boat docks on the market, keep in mind that some may offer more features than others. For example some models may have an anti-slip surface while others do not. It is also important to compare prices between different models in order to find one that fits within your budget range.
5. Lock and Security
When buying an inflatable boat dock, it is also important to consider the lock and security. For example, some docks have locks to secure small watercraft or other items on them while others do not. Additionally, some docks offer better security than others depending on the materials used in their construction.
On the other hand, some docks do not have locks at all and instead rely on users to secure their own boats with ropes or tie-downs. Other docks may offer less security due to their construction materials being weaker than others or having fewer features such as locks for added protection. Buyers need to weigh these considerations before making a purchase decision so that they can find a dock that meets their needs without sacrificing safety or convenience in any way possible.
6. Material and Construction
When buying an inflatable boat dock, you should consider the material and construction. High-quality PVC material is strong and durable, making it ideal for this purpose. It also has UV resistance and an anti-slip coating to make it safer and more comfortable to use. EVA foam padding can be added for extra comfort.
On the other hand, some docks are made from lighter materials such as polyester or vinyl which may not be as durable as PVC but can still provide adequate support for mooring watercraft or swimming from the dock. It is important to consider your needs when buying a dock so that you can find one that fits them best!
7. Hand pump or Electric pump for inflation/Deflation
1. Make sure the valve fittings are compatible with your electric pump or hand pump. You may need to get an adapter attachment for the floating dock valve.
2. Use an electric air pump to inflate and deflate the floating dock quickly and easily.
3. Once inflated, roll up your floating dock and store it away easily with your other belongings in smaller spaces, thanks to its compact size when deflated.
8. Storage and usage
An inflatable boat dock offers convenience and extra storage space for boaters. It can be used to secure toys such as jet skis, floats, wakeboards, or other items needed while out on the water.
Unlike traditional docks that require upkeep and maintenance in order to stay functional over time, an inflatable dock is low maintenance and easy to store when not in use. Additionally, traditional docks do not offer as much extra space as an inflatable dock does.
9. Swimming platform
An inflatable boat dock with a swimming platform has many features that make it ideal for use on the water. It is:
1. Easy to set up – the dock can be quickly inflated and deflated, making it easy to transport and store away when not in use.
2. Lightweight – the lightweight material makes it easy to carry around and move from one spot to another without much effort or strain on your part.
3. Sturdy – despite being lightweight, the material is sturdy enough to hold up an entire boat or other heavy object without any issues or risk of collapse/leaking/etc.
4 . Weatherproof – this feature ensures that no matter what kind of weather conditions you are facing (rain, snow etc.), your dock will remain intact and usable without any problems whatsoever!
11. Cost and maintenance
The costs and maintenance requirements for inflatable boat docks vary depending on the type of dock. Inflatable docks are generally cheaper than traditional wooden or metal docks, as they require fewer materials, labor, and maintenance. Additionally, inflatable docks do not need to be painted or stained, which can save money over time. The only regular maintenance required for an inflatable boat dock is cleaning it with soapy water if it gets dirty and ensuring it tries properly before folding and putting it away
12. Inflatable Boat Docks: Safety and security
When buying an inflatable boat dock, safety and security considerations should be taken into account. The dock should have grab handles to help passengers get on board from the water, as well as a full-length grip (deck pad) to stop it from getting slippy. Additionally, the dock should be used only in deep waters where it is safe to swim or paddle.
It is important to note that while inflatable boat docks can provide added safety when swimming or paddling in deeper waters, they should not be used as a substitute for proper boating safety practices such as wearing life jackets or paying attention to weather conditions. Furthermore, while some docks may offer additional features such as lighting or power outlets for running appliances off of an onboard generator, these features are not mandatory and must be considered before making a purchase decision based on individual needs and budget constraints.
Best Inflatable floating Docks review: Our Top Picks
1. BOTE Dock 7 Inflatable Lake Float for Adults Floating Island
The BOTE Dock 7 Inflatable Float is a versatile and durable floating dock that is perfect for use at the lake house, on the beach, or even as a yoga platform. With its grab handles and tie down points, it is easy to maneuver and transport, and its anti-slip BVA deck pad provides cushioning and comfort. The included hand pump makes it easy to inflate, and the repair kit ensures that you can fix any rips or punctures.
The 1050 LB capacity makes it perfect for carrying coolers or other gear. And when you're done, simply fold it up and store it in the included burrito sling bag.
2. Happybuy inflatable floating dock – Heavy-duty Inflatable Dock for swimming and Boat Dock Platform With Air Pump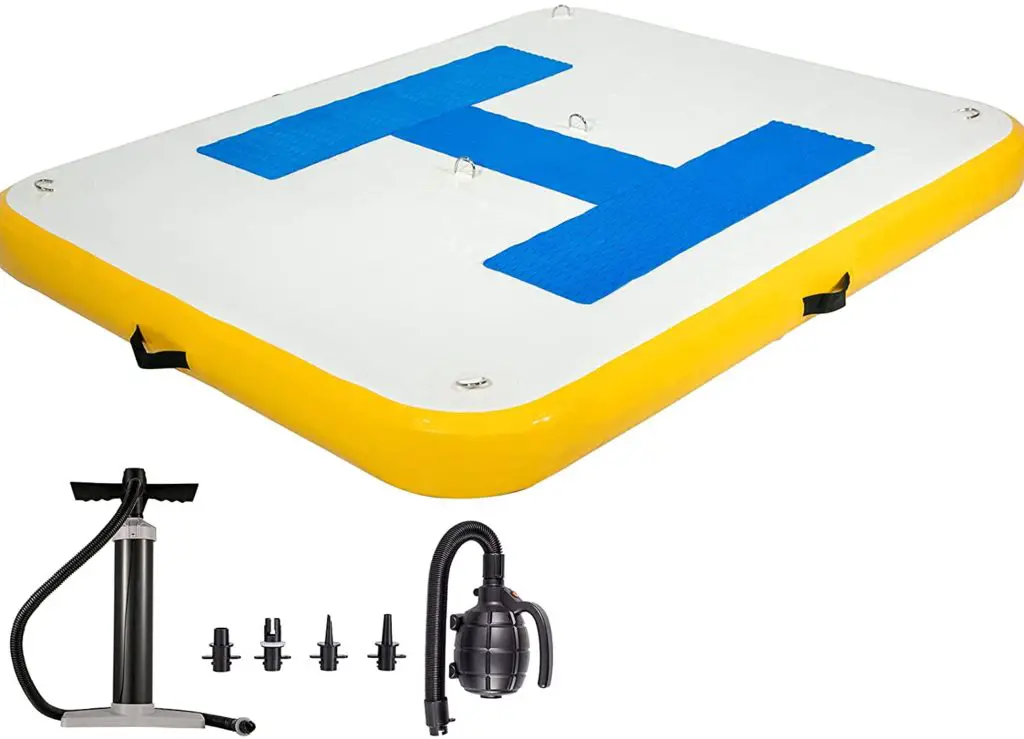 The Happybuy heavy-duty inflatable is a versatile and flexible inflatable dock and is a great accessory for your boat or water activities. You can attach it to the vessel's side or use it independently as a floating dock platform for swimming. With heavy-duty PVC material, this inflatable boat dock has an adjustable bungee system that lets you secure your board in place while out on the water. It has a large inflatable platform and non-slip materials that make this dock outstanding. It is also very easy to store and transport.
3. Solstice Inflatable Dock, Inflatable Floating Platform For Beach, Lake & Pool
The Solstice's Inflatable floating docks are not just any ordinary inflatable. When inflated, experience a lightweight and rigid surface – the applications are endless for these inflatable platforms. Perfect for lounge chairs, coolers, and hours of fun on the water. Simply inflate and tie to the back of your boat to extend your on-water real estate by an additional 40 square feet.

The inflatable platform is a 4-6 person recommended capacity that supports standing adults. Working on your boat has never been easier – simply tie to the side of your boat, utilize the middle D-rings to tie down tools, and maneuver around effortlessly.
Inflatable Drop Stitch technology makes it incredibly easy to deflate, fold, and store back in the included bag – perfect for storing in small spaces. Complete Set: Comes with a dual-action hand pump with pressure gauge, carry bag, six stainless steel D-ring tie downs, 6 reinforced grab handles, 1 repair kit, and 1 high pressure inflate/deflate HR valve.
4. Healthy Infusions Island Hopper Dock
Another well-built product, the Healthy Infusion, is great for big boats or swimming platforms for more than 5 people. It is made of heavy-duty PVC material with a non-skid surface that makes it safe for everyone. This inflatable boat dock can be used as an additional deck or as a standalone floating platform and comes with its storage bag.
5 FBSPORT Inflatable Floating Dock for Pools, Beaches, and Oceans
The FBSPORT Inflatable Floating Dock is the perfect choice for those looking for a safe, stable, and durable dock for their pool, beach, or ocean. This dock is made of heavy-duty PVC and features a non-slip surface, making it safe for both children and adults. It also inflates and deflates quickly, making it easy to set up and take down.
With a wide range of uses, the FBSPORT Inflatable Floating Dock is perfect for family gatherings, fishing, yoga, and more. Made from durable materials, this mat is built to last and provide years of enjoyment. So get out there and enjoy the water with the FBSPORT Inflatable Floating Dock!
6 Wow World of Watersports Inflatable Swim Platform
The Wow World of Watersports Inflatable Swim Platform is one of the best ways to enjoy a day on the water with friends and family. This inflatable platform provides a stable, comfortable surface for lounging, sunbathing, or enjoying a drink. The grommets on each end make it easy to tie off to a boat, and the included rope makes it easy to create a large floating island. Whether you're looking for a relaxing day on the water or a fun way to get from one boat to another, the Wow World of Watersports Inflatable Swim Platform is the perfect solution.
7 Blue Water Toys Inflatable Dock with Floating Island, Deck Lounge, and Raft
The Blue Water Toys Inflatable Dock with Floating Island, Deck Lounge, and Raft. This versatile dock can be used as a deck or lounge with a separate floating island, making it perfect for relaxation, work, or play. The durable reinforced military grade drop stitch technology ensures that this dock will be firm and resistant to damage, while the strategically placed handles and EVA pad make it easy and comfortable to use. With safety reflectors on all sides, you can be sure that this dock will provide you with years of enjoyment.
This inflatable dock is perfect for any water activity, from swimming and sunbathing to fishing and kayaking. The floating island and deck lounge provide a great place to relax, while the raft can be used for exploring or as a swimming platform. The best part is that the Blue Water Toys Inflatable Dock is covered by a 1 year warranty, so buy with confidence.
8. FirstUp Productions Sirocco 2 inflatable dock for boats
 If you're looking for something bigger than the usual inflatable boat docks, this is the product to invest in. This versatile dock can attach to your pontoons or work independently with adjustable height features. It can also rotate 360 degrees so you can perfectly position your vessel where you want it without worrying about bumping into another one. The Sirocco dock has heavy-duty flexible tubes designed to last for years of use.
9. Tower Paddle Boards SUP Raft 2.0
If you're more into stand-up paddleboarding, this is the inflatable boat dock to go for. Made of vinyl PVC, this highly versatile rack can also be used as a floating platform or pontoon on your boat or its owner. The multi-purpose dock has an adjustable bungee system that holds your board in place while you are out on the water and deflates easily for storage when not in use.
10. Drift Inflatable Floating Dock 10×10
It is a versatile and flexible dock that can suit several uses. For example, it floats like an inflatable boat dock, but you can also attach it to your pontoons or use it as a pontoon. It comes with its storage bag, and the PVC material is resistant to punctures, tearing, and UV rays. The inflatable floating dock is quite outstanding as it is very easy to inflate. It also has a sling which is very useful for transport and storage.
11. Aquaglide Inflatable Floating Dock
This inflatable floating dock is specifically designed to float on the water. It has three attachment points so you can attach them to your pontoons, boards, or any other floating structures. The heavy-duty vinyl material of this inflatable dock makes it durable and easy to transport with its storage bag that comes with the product. It also has vacuum fun that helps to create a resort-style playground. It also makes an ideal replacement for foam mats.
12. Island Hopper Inflatable Dock Platform
This patio floating dock has non-skid surface, springs, and adjustable height for an extra tall boat, and is one of the best inflatable boat docks to go for. You can use it to float your boat independently or attach it to your boat to create an increased deck room. It is made with durable PVC material that can withstand heavy use. The inflatable dock has an anchor point to attach your boat to the dock and comes with a nylon bag for easy storage.
If you decide to buy an inflatable dock, here are our best collections best inflatable covers for boats.
10 Benefits of using an inflatable boat dock
1. Easy installation and setup
1. Lay out the inflatable dock on level ground and make sure it is free from debris or rocks.
2. Attach the air pump to the valve on the dock and set it to high-pressure mode to inflate the dock faster.
3. Once fully inflated, use stakes or weights to secure the corners of your dock in place so that it remains stable when used for boating purposes.
4. To store away your inflatable boat dock for later use, deflate it completely then roll up into a compact bundle for easy transport and storage in a dry area away from direct sunlight or heat sources like radiators or fireplaces
2. Lightweight and portable
An inflatable boat dock that is lightweight and portable will have the following features:
• Compact design to fit into any car, boat or RV.
• Rigid construction and feel to ensure stability when carrying pets or anchoring.
• Tie-down knots for anchoring.
• Carry handles for easy transport.
• Dual high-pressure valves for quick and easy inflation.
3. Can be used in any kind of water
An inflatable boat dock can be used in various water conditions, including calm waters, lakes, rivers, and oceans. It is designed to provide a sturdy, flat surface for boats and other watercrafts to land on or launch from. The durable PVC material provides extreme durability while the drop-stitch construction helps to ensure that it stands up well against harsh weather conditions. Additionally, the center PVC insert allows users to add an umbrella or flag for added convenience and style. The boat dock can hold up to 1,300 lbs., making it ideal for use with larger vessels such as jet skis or SUPs.
4. Various sizes and shapes to choose from
There are a variety of inflatable boat docks available, ranging in size and shape. Some types include:
1. Rectangular docks – These are typically 8 feet long by 6 feet wide, ideal for small boats, or can be used as a floating platform for swimming or fishing.
2. Hexagonal docks – These offer more space than rectangular docks and are ideal for larger boats or multiple people to dock at once.
3. Circular docks – These can be used as mooring points for smaller vessels and have an open design that allows water to flow through easily without causing damage to the boat or dock itself.
5. Durable and strong material
The material used in an inflatable boat dock is durable and strong because it is made from heavy-duty 1000D PVC material, double reinforced seams, and a drop stitch construction. This ensures that the dock will last long-term without becoming punctured or deflating. Additionally, the drop stitch technology provides excellent stability and sturdiness while also providing comfort with its padded deck surface.
6. Safe and secure platform for your boat
An inflatable boat dock has a variety of safety and security features to ensure the safety of those using it. It typically has:
• UV-resistant heavy-duty PVC material for extra durability.
• A teak deck print design for blending in with boats or sailboats.
• Heat-welded drop stitch platform for added stability.
• Space for a ladder and heavy-duty carry handles.
7. Can be used for swimming and relaxing
Using an inflatable boat dock for swimming and relaxing offers many benefits, including:
– Being able to enjoy the water without having to worry about damaging a traditional wooden or metal dock.
– Being able to use it on land or in the water, depending on your needs.
– Having a sturdy platform that won't tip over even with heavy loads and increased physical activities.
– Having lots of space for lounging, docking boats, snorkelling and other water activities.
8. Can save space in storage
Using an inflatable boat dock instead of a traditional one saves space in storage due to its compact size and lightweight design.
An inflatable dock can be folded up and stored away easily, taking up less space than a traditional dock would. Additionally, it is lightweight enough to be transported by one person when needed.
9. Environmentally friendly option
Using an inflatable boat dock helps the environment by reducing the need for extra storage space and minimizing upkeep.
This reduces the use of resources such as wood, metal, and concrete, which helps to reduce pollution and protect the environment. Additionally, inflatable docks are easy to store away when not in use so they do not take up unnecessary space.
10. Money-saving option
Using an inflatable boat dock can provide extra storage space, convenience, low upkeep, and easy storage. These benefits can save money on things such as maintenance costs and the need for a larger boat dock.
A traditional wooden or concrete boat dock may be more durable than an inflatable one and may require less maintenance over time. However, they are typically more expensive to purchase than inflatable docks and may require additional expenses related to upkeep or repairs over time.
11. Convenient and Transportable
The benefits of using an inflatable boat dock that is portable and convenient include:
• Extra storage space – The dock can be used to store items while out on the water.
• Convenience – You can take it with you anywhere you go, making it easy to set up wherever you need it.
• Low upkeep – There is no need for maintenance or repairs since there are no moving parts or boards that could get damaged.
• Easy storage – When not in use, the dock can be folded up and stored away easily in a small space until needed again later on.
12. Price
Inflatable boat docks range from $135 to over $1000. The price depends on the materials, size, and requirements of what you intend on using it for. A more expensive inflatable boat dock will have a better quality of workmanship, so be sure to look at what you're paying for before making a purchase.
FAQ
Is It Safe To Use Floating Docks?
Yes, it is safe to use floating docks. The docks are manufactured with safety in mind and they come with instructions on how to set them up correctly. Additionally, they are made of durable material that can withstand deep waters without any issues. You just need to make sure you follow the instructions and ensure there are no punctures in the dock before using it. Lastly, you should tie your dock down securely to your boat or else risk drifting away from it in deep waters.
What Other Accessories Commonly Come With Inflatable Docks?
Other accessories commonly come with inflatable docks, including pumps, storage bags, and repair kits. Some brands may also offer additional accessories such as anchors, tie-downs for securing the dock to the shoreline or boat trailer, rope lights for nighttime illumination, and loungers/chairs for relaxing on the water.
Can Your Inflatable Dock Sink?
If you're wondering whether an inflatable dock can sink, the answer is yes but only if it's not inflated properly or it gets punctured by a shape object. An inflatable dock is made of durable, sturdy materials that can withstand some weight without collapsing. It is also stable, so it doesn't wobble or tip over when you're on it.
What materials are used in inflatable docks?
The materials used in inflatable docks include:
– Military-grade plastics, such as PVC and Nylon, which are lightweight, durable and flexible.
– UV-resistant finishing to prevent deterioration from the sun's rays.
– Anti-slip coating to make the dock safer and more comfortable to use.
– EVA foam padding on top of the platform for added comfort.
How do you inflate an inflatable dock?
1. Remove the inflatable dock's cover and insert the hose into the bottom of the pool.
2. Turn on the valve and let water flow slowly into the pool until it is fully filled.
3. Close the valve once the filling is complete and wait for the water level to rise again before inflating further if necessary.
4 If you have an electric air pump, use it to speed up this process by connecting it directly to your boat's battery or cigarette lighter adapter end, plugging it into an outlet nearby (if available).
5 Once inflated, secure all ties or straps around the boat/dock securely so that no further damage can occur due to movement during transport or use of inflatable dock/boat combo unit together as one piece of apparatus for boating purposes, etc.
What is the capacity of an inflatable dock?
The capacity of an inflatable dock refers to the maximum weight it can hold.
The average weight capacity of a dock is between 400 and 800 pounds, depending on its size. It is important to not overload the platform to ensure safety, as this includes cool boxes and other gear along with people. The manufacturer will state the total weight capacity of each dock in its specifications.
Are inflatable docks durable?
Yes, inflatable docks are highly durable. They are made from high-quality materials such as 1000D PVC, which is heavy-duty and resistant to damage. In addition, most inflatable docks are virtually unsinkable and come with repair kits so minor scratches can easily be fixed. Furthermore, the drop stitch technology provides a sturdy and solid dock surface with excellent stability – perfect for sharing with friends or pets!
Are there any attachments for an inflatable dock?
An inflatable dock can be equipped with D-ring attachments for securing items such as cooler boxes, beach chairs, and small boats. These attachment points allow you to customize your dock setup however you'd like. You can also connect multiple inflatable docks together for a larger platform or use them to anchor iSUPs in place.
There are no specific attachments that are solely designed for an inflatable dock; however they can be used with other accessories such as tie-down ropes or straps depending on your needs.
What is the deck print design for inflatable docks?
The deck print design for inflatable docks is a teak design that looks sophisticated on all kinds of yachts and boats.
The teak design provides a high level of comfort and stability on the water, as well as an attractive look for any boat or yacht. It is made from durable PVC material that will last for years in any environment. The inflatable dock also comes with multiple D-rings for attachments and mooring purposes, as well as a portable power inflator to make inflating easier.
Are inflatable docks suitable for all weather environments?
Inflatable docks are suitable for all weather environments, as they are made from durable materials that can withstand heavy outdoor use. They also offer an anti-slip surface that is comfortable to sit or stand on, ensuring safety in all weather conditions. Furthermore, inflatable docks are designed to be lightweight and portable so they can be easily transported between different locations or stored away when not in use.
What Can You Use Your Inflatable Floating Dock For?
You can use your inflatable floating dock for a variety of purposes, including:
– An anchor for kayaks, water toys, and small watercrafts.
– A party platform for friends and family to enjoy themselves.
– A yoga mat for those who practice yoga.
– A fishing pier where you can catch supper without having to worry about punctures from the hooks.
– Space to store items such as floats or wakeboards when out in the water on the dock.
What is the best way to store an inflatable dock?
1. Deflate your inflatable dock and store it flat, compact and stable.
2. Inflate it when ready to use it at the lake, river, or alongside your boat.
3. When finished using it, retrieve the inflatable dock from the water and deflate it for storage (such as in a boathouse, dock box, or on board your boat).
4. You can also use the extra space that an inflatable dock provides to secure toys like jet skis or floats for convenience while floating out in the water area.
5 . Lastly, use your judgment on what else may be necessary when out floating around with an inflatable dock available to help store those items if needed!
Conclusion
The best inflatable boat docks are versatile, durable, and high-quality products. You can choose one based on your needs and preferences from the products mentioned above. In the selection process, ensure that you check the materials used to make the inflatable dock. Ensure that the item you select is easy to carry and store. You should also consider the price of the dock, ideally, you can purchase from online stores such as Amazon.
We hope that you have found the information which you were looking for in this article about the best inflatable boat docks. We have taken the time to research and look at the best inflatable boat docks and have presented them to you so that you can see them all in one place. If you need any further information about the products in this article or if you have any questions, please leave a comment below, and we will get back to you as soon as we can.