Imagine a day filled with gentle waves, the smell of fresh water, a fishing rod in hand, and the comforting presence of your favorite people. That's precisely the day I experienced with the Intex Excursion™ 5.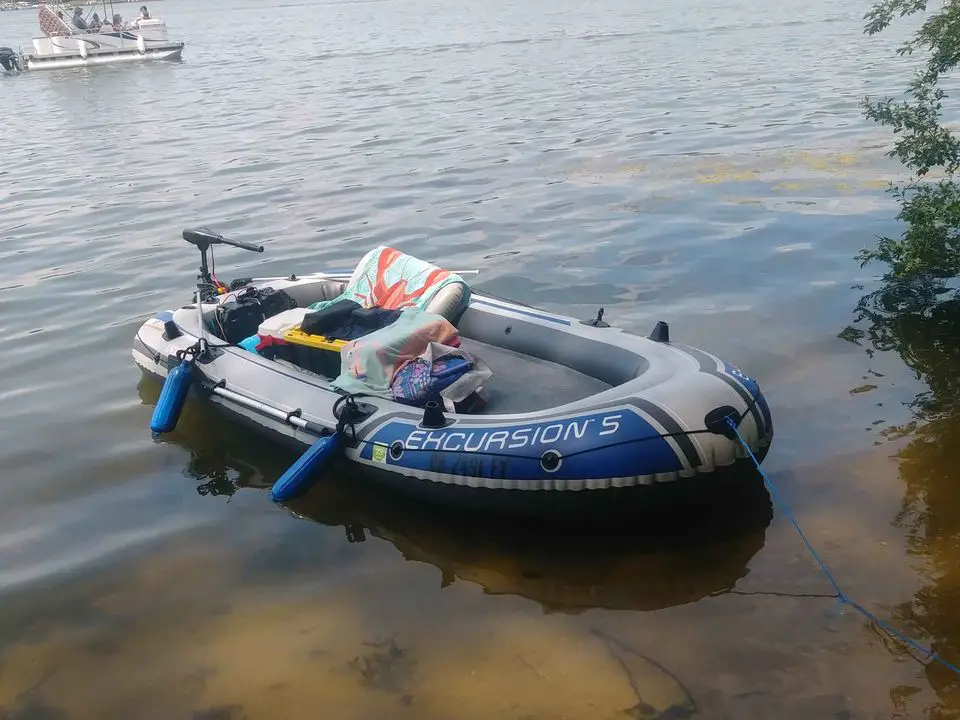 At first glance, I was taken by how lightweight and compact this 5-person capacity boat was. But don't let its size fool you; the boat screams durability and quality. The rugged vinyl construction promises longevity, ensuring that the boat will weather through multiple summers of fun-filled adventures.
Setting it up was incredibly straightforward, thanks to the Boston valve on the two main hull chambers. Inflating and deflating this boat was both a quick and easy process. The 3 air chambers – especially the auxiliary chamber in the hull – instilled a sense of safety in me. The knowledge that the inner auxiliary chamber alone could keep us afloat if the need arose was truly reassuring.
The Inflatable I-Beam floor was a revelation. It provided the right balance between comfort and rigidity, ensuring we could move around with ease without compromising the boat's stability. And speaking of comfort, the two roomy inflatable seats with backrests made those long hours on the water so much more enjoyable.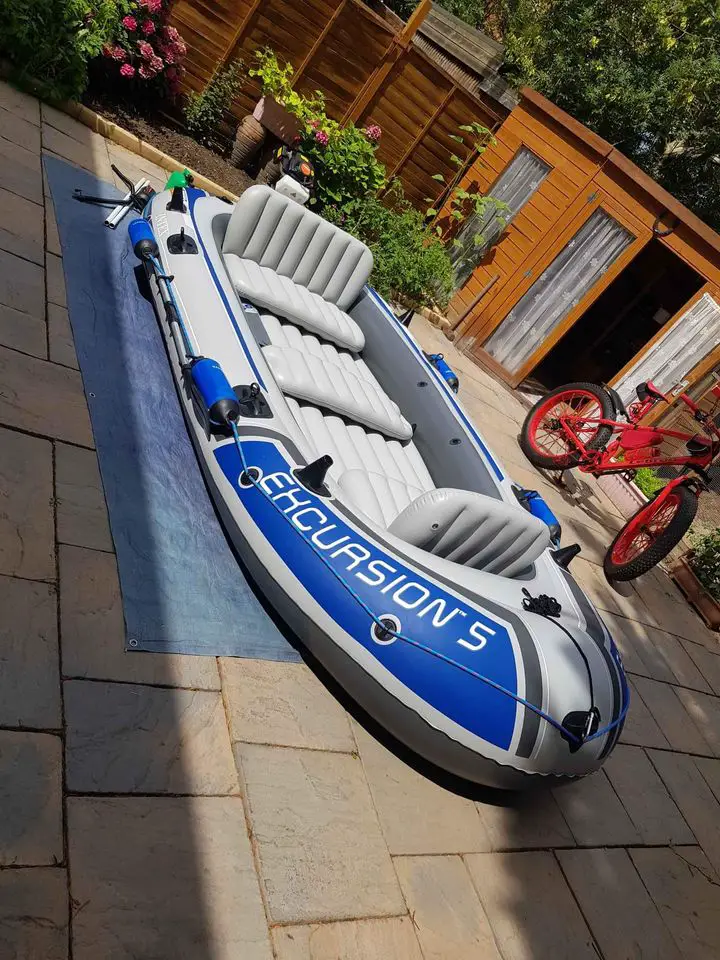 For the fishing enthusiasts, including myself, the four fishing rod holders were an excellent addition, turning our boating adventure into a fulfilling fishing trip. The gear pouch came in handy, ensuring our essentials remained close, yet out of the way.
The boat's design is so user-friendly; with grab handles on both sides of the bow and the all-around grab line, getting in and out of the boat was a breeze. And if you're looking at more extended excursions, the boat is equipped with motor mount fittings, making it versatile for both manual rowing and motored adventures.
One of my favorite things was the inclusion of the 54in Aluminum Oars and the High-Output Pump. These accessories truly elevated our boating experience, ensuring we had everything we needed to kick-start our day on the water.
Safety is paramount, and knowing that this boat is TUV approved and meets the ISO 6185-1 NMMA-ABYC standards gave me peace of mind. Plus, the U.S. Coast Card I.D. is a testament to its quality and safety features.
The Intex Excursion™ 5 is more than just an inflatable boat; it's the promise of unforgettable summer days filled with adventure, laughter, and cherished memories. Whether you're fishing, camping, or simply cruising on a sunlit lake, this boat is a trusty companion that guarantees fun and safety. From its design to its features, it's clear that every aspect has been crafted keeping the user in mind. If you're looking to make the most of this summer, set sail with the Intex Excursion™ 5. You won't be disappointed.
Excursion 5 setup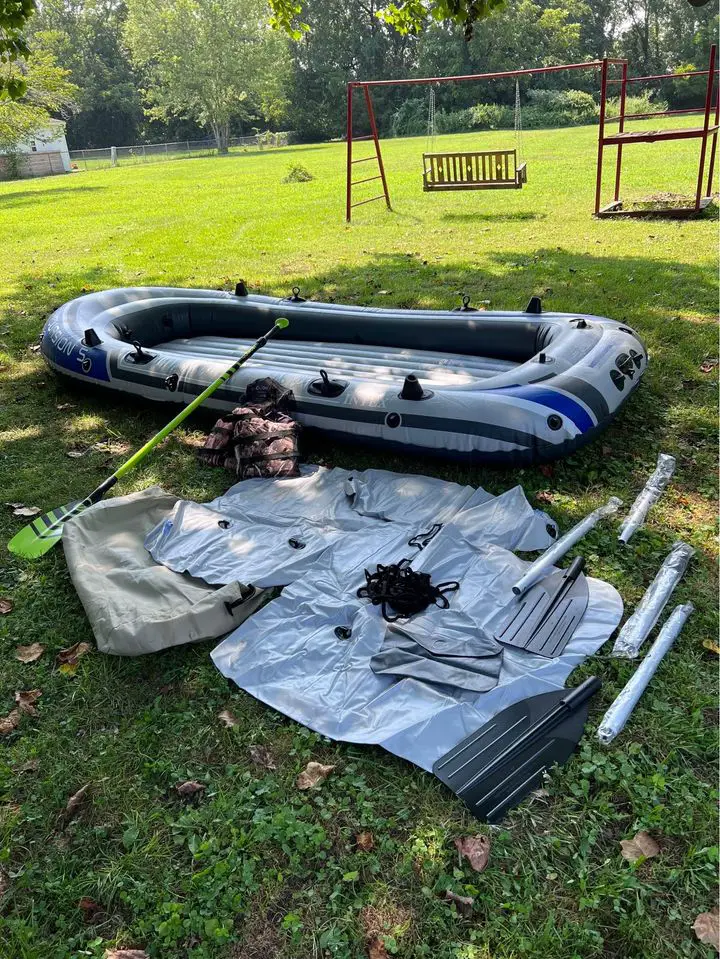 Assembling the Intex Excursion™ 5 inflatable boat was more straightforward than I anticipated. With the inclusion of a high-output manual hand pump, it took us only about 10-15 minutes to have it fully inflated and ready for use. Rolling it back up and fitting everything into the carry bag also proved to be simple with a bit of practice.
Comfort was noteworthy in this boat. The two inflatable seats equipped with backrests provided surprising support and relaxation. There was ample space that easily accommodated myself, my wife, and our three kids aged under 10; making it seem like we could have even added another adult comfortably.
Now, talking about stability, we tested the waters in several conditions – venturing on still lakes to more adventurous trips down shallow areas of rivers filled with rocks and logs. What amazed us was this boat's ability to withstand multiple terrains without showing signs of injury or puncture! This rugged vinyl beast earned my trust after those extreme trips.
Maneuverability is something that truly stands out for me. The welded oar locks alongside their appropriate holders greatly enhanced my paddling experience giving me control even though at times I struggled since I had a shoulder surgery couple years back. However, adding a motor mount might be beneficial for longer rides or if you prefer less manual work.
And despite being roomy enough for a family outing, this raft was easy to navigate and glided smoothly on water – regardless if we were going downstream in low water points or trying to paddle against current in narrow river bends. Overall, navigating through different waterways felt effortless thanks to its design and thoughtful feature implementations.
Durability and Performance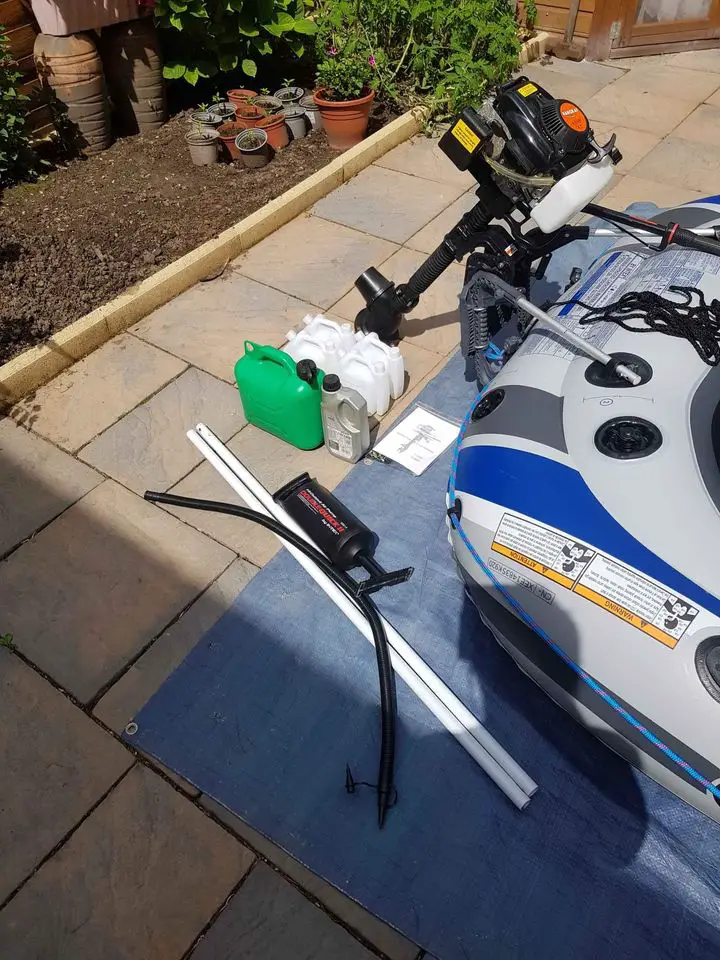 I was truly impressed by the durability of the Intex Excursion™ 5. We took this inflatable boat on couple Yosemite float trips and despite journeying over shallow regions with several rocky terrains and logs scattered, it displayed significant resistance to punctures. The rugged vinyl construction certainly gives it an edge when compared to other less expensive rafts that we've tried, which just didn't hold up as well.
Throughout our adventures, we were accompanied by friends who had a Mariner 4's and 3's raft. We got an opportunity to spend time on their boats as well – overall, while Excursion 5 lacked certain features like a ribbed floor insert or the ability to place paddles parallel while attached, it made up for it in terms of sheer capacity and toughness.
Now, let's talk about the performance with added accessories – particularly the trolling motor. Installing Minn Kota Endura C2 40 proved to be beneficial in terms of propulsion when compared to mere paddling, especially during upstream travels in moderate river current. It presented us with varying speeds and conveniently operated at 30lbs thrust for most parts unless confronted with stronger currents where we cranked it up to its full capacity.
Pricing Valuation and Availability
The price of the Intex Excursion™ 5 inflatable boat is $279 US dollars. In pounds, it would be approximately £208 (based on current exchange rates). In Australian dollars, it would be around AUD 383 (based on current exchange rates). Please note that exchange rates may fluctuate, so it's always a good idea to check for the most up-to-date prices.
Intex excursion 5 features and Spec details
| Feature | Specification |
| --- | --- |
| Air Chambers | 3 (including auxillary chamber for extra buoyancy) |
| Boston Valve | Yes |
| Material Construction | Rugged vinyl |
| All Around Grab Line | Yes |
| Inflatable I-Beam Floor | Yes |
| Fishing Rod Holders | 4 |
| Inflatable Seats with Backrest | 2 |
| Gear Pouch | Yes |
| Grab Handle on Bow | Yes (one on each side) |
| Welded Oar Locks | 2 pairs |
| Oar Holders | 2 on each side |
| Motor Mount Fittings | Yes |
| Pump | Hi-Output Manual Hand Pump |
| Repair Patch | Included |
| Inflated Size | 10ft 4in X 5ft 5in X 1ft 5in |
| Capacity | 1,100 lb |
| Motor HP | Up to 4 hp |
Accessories and Modifications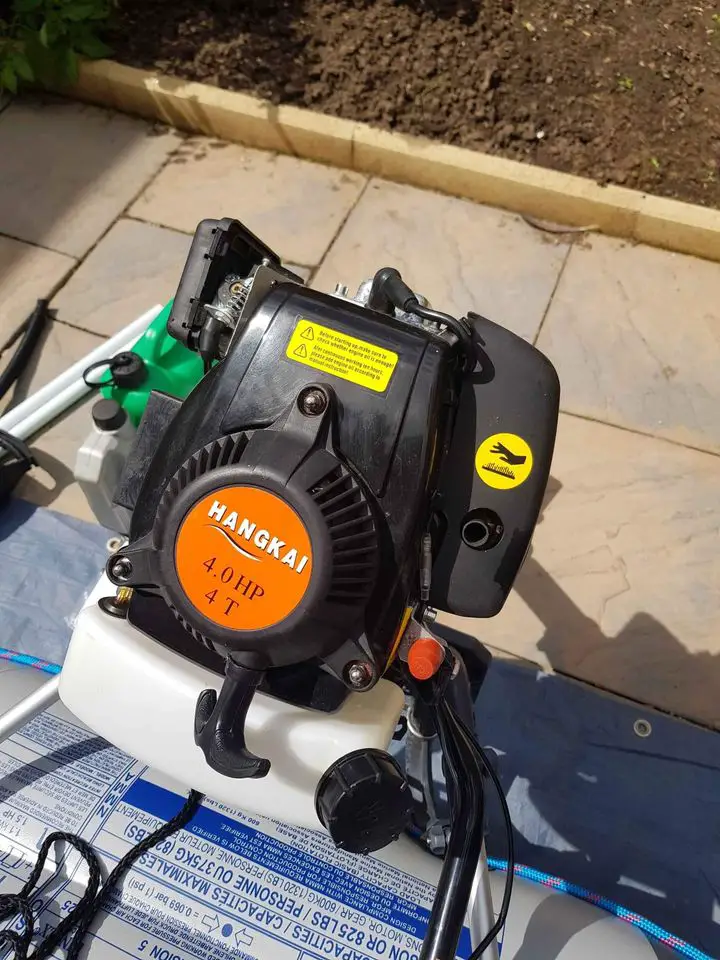 From my experience with the Intex Excursion™ 5, I would highly recommend some accessories and modifications to get the most out of your boating trips. A top suggestion would be to add a trolling motor. I got the Minn Kota Endura C2 40 with 40lbs of thrust. The power was ample, but to manage battery usage better, you may want to consider a battery holder like the Minnkota Trolling Motor Power Center.
Also, if you plan on fishing or simply anchoring down in one spot on the water for a while, an anchor such as the Kwik Tek A-2 comes in handy more times than you'd think.
In terms of modifications, there were two main adjustments that significantly improved my user experience. The first was fabricating a solid floor. I picked up some plywood from Home Depot and custom cut it to fit the bottom of my boat. It provided a stable platform and sturdy floor compared to the standard inflatable one, especially over several outings.
Another modification was getting stadium seats for comfort since paddling can become uncomfortable after hours on waters. This addition added much-needed back-support that doesn't come with inflatable seats.
Bear in mind though, these enhancements will bump up your overall expense but believe me when I say they stand as valuable investments contributing largely towards enriching experiences while navigating through tranquil or even mildly choppy waters!
A third valuable modification was the implementation of tarps. Inflating the boat on land using a tarp underneath ensured no accidental punctures occurred. Not only that, I also used those tarps to keep my plywood boards dry and clean when we were out in the water.
For those who love fishing, another accessory worth considering is extra fishing rod holders. Although the boat already comes with built-in holders, if you're seriously into fishing or perhaps have multiple people wanting to fish at once, then additional rod holders can prove very useful.
Also, adapting Overton's Adult Boating Vest Four Pack ensures everyone on board adheres to safety protocols while adding a splash of color to your adventure group. And if the original carry bag breaks, I learned from other fellow boaters that a fake xmas tree carry bag can come in quite handy as it perfectly fits this large inflatable.
Lastly, be mindful of the ambient temperature and time of day when inflating the boat. This will determine how much it will inflate and soften across different times of the day and prevent over or under inflation.
From my experiences, these added accessories and alterations considerably amplified our family trips' joyous moments and shall continue to do so!
Minor Issues and Considerations
While my experiences with the Intex Excursion™ 5 have mostly been positive, I have encountered a few minor issues and considerations worthy of mention.
Firstly, when using the trolling motor at higher settings, I noticed a bit of instability. The motor tends to bend the support moldings, causing it to tuck slightly under the boat, especially when set high. This doesn't seem to do any major damage but nonetheless gave me some initial concerns. Yet, once I familiarized myself with the product, drawing up the motor helped curb this issue substantially.
Next on my list is to be mindful of temperature variations when inflating and deflating. On hot days, air inside the boat expands past its original measurement and conversely softens as the day cools down. It's crucial to adjust inflation levels depending on whether you launch in the morning or at noon – but no worries too much about this, as you don't necessarily need to make adjustments once inflated unless circumstances demand it.
Lastly, something this boat could benefit from is a shading system. On blazing days out on open water having some sort of umbrella or canopy could provide much-needed respite from the sun for those aboard – still brainstorming on a DIY solution for this addition!
While these points by no means deterred me from enjoying outings on this inflatable, they are elements worth considering or addressing for an even smoother experience for potential buyers like yourself. But judging from my own experience and that of others within my circle – this raft lives up pretty well to its promise of delivering a pleasant aquatic adventure!
Customer Reviews and Ratings
The Intex Excursion™ 5 inflatable boat has received high praises from numerous users. I will recount some of the testimonials and reviews that have been shared based on personal experiences:
David gave the boat a full 5 out of 5 stars, stating that it was perfect for his Yosemite float trips. In his experience, the inflatable boat was spacious enough to comfortably accommodate himself, his wife, and their three children under ten years old without any concerns about punctures even with several encounters with rocks and logs in shallow areas.
Another user named Charles S also rated the boat highly, specifically impressed by its durability. When testing it over two Yosemite float trips, he discovered that it can take quite an abuse; handling shallow waters and rocky terrains very well when compared to lesser-priced rafts previously owned.
A reviewer named Charles S highlighted some of the boat's most appealing features but also noted a few downsides. He mentioned the studier ribbed floor insert and paddle positioning benefit offered by Mariner series making them more preferable as long as you don't require extra room.
On other hand, for David it was worth every penny spent – praising specifically how easily he could set it up and deflate the raft aside from surprising toughness against potential wear-and-tear situations in varied water conditions.
These testimonies give us an informative account of what new users can expect with their Intex Excursion™ 5 purchase. By considering these accounts alongside your own needs and preferences, you'll have all the insights required to decide whether this product fits your bill to perfection or not!
Maintenance
Maintaining the Intex Excursion™ 5 inflatable boat is crucial to ensure its longevity and continued optimal performance. Here are some maintenance tips based on my personal experience:
Cleaning: After each use, I recommend thoroughly rinsing the boat with fresh water to remove any dirt, sand, or saltwater residue. Using a mild soap solution, gently scrub away any stubborn stains or debris. Be sure to rinse off all the soap and allow the boat to air dry completely before storing it.
Drying and Deflation: Properly drying and deflating the boat is essential to prevent mold or mildew growth. After cleaning, deflate the boat completely, removing as much air as possible. Wipe down the boat with a clean cloth to remove any excess moisture before letting it air dry completely in a shaded area.
Inspections: Regularly inspect the boat for any signs of wear, tear, or damage. Check for punctures, leaks, or worn-out areas that might require patching or repair. If you notice any damages, address them promptly using the repair patch provided or seek professional repairs if needed.
Storage: When not in use, store the deflated and cleaned boat in a dry, cool location away from direct sunlight and extreme temperatures. Avoid storing it in places where sharp objects could potentially cause punctures or damage.
Air Chambers: Before every use, inflate the boat's air chambers to their recommended capacity and check for any leaks or loss of air pressure during inflation. If needed, add more air to maintain proper inflation levels.
Accessories: Inspect and maintain accessories such as oars, motor mount fittings, and any additional equipment regularly. Ensure they are securely attached and functioning properly.
Safe Handling: Always follow safety guidelines and regulations while handling your inflatable boat. Be mindful of weight limitations and distribute weight evenly to maintain stability and prevent strain on the boat.
Conclusion
In winding up, my review for the Intex Excursion™ 5 inflatable boat is mostly positive. I can testify to its substantial capacity, making it an excellent choice for a day out on the water with a group or family. Its three air chambers help provide additional buoyancy, giving me a sense of security when I'm out on the lake with my little ones.
Contrary to some concerns about durability that usually plague inflatable boats, I can vouch for its resistant vinyl construction. From experiences floating over rocky areas and logs in shallow rivers to riding high current areas – this one stood the test and endured everything thrown at it without any sign of puncture.
When it comes to performance, especially if you prefer less manual interventions like myself, adding a trolling motor transforms your cruising experience entirely; however, their stability at high thrust levels might need some improved attention.
I did make some modifications of my own for enhanced comfort. Installing tarps to keep things dry, a sturdy floor for superior grip and balance as well applying stadium seats added layers of relief during long hours on waters.
On the minor side of things, one needs to be careful with temperature variations while inflating and deflating – a parameter often overlooked but worth noting. I am yet to figure out an effective shading system so that's something on my future agenda for hot days in open water.
Based on personal usage and also echoing the testimonials from other users such as David and Charles S – Intex Excursion™ 5 stands as an affordable raft that doesn't compromise on quality or endurance aspects whatsoever!
So wrapping up, would I recommend this product? Absolutely! Whether you have yearly float trips planned or merely wish to enjoy peaceful fishing weekends or fun-filled water outings – Intex Excursion™ 5 makes for an enjoyable boating companion that's both reliable and rewarding in my book.