There's nothing quite like the excitement and anticipation of Christmas. You can feel it waiting in the air, wafting through your home with every decoration you've put up and crackling underfoot as you walk across the carpet. You can't help but get in the spirit when you're surrounded by all of this festive cheer, and these are just a few ways to make your upcoming holiday season extra special.
We have a variety of inflatable Grinches, from small to large and indoor or outdoor.
11Ft Grinch Holding a Christmas Tree Airblown Inflatable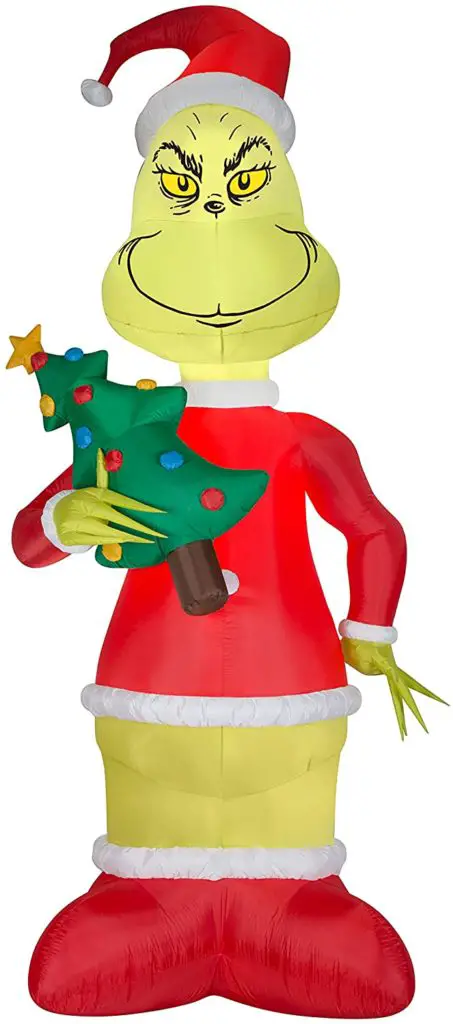 The Giant Grinch inflatable is an airblown inflatable that lights up for nighttime visibility. It self-inflates in seconds and deflates for easy storage, making it the perfect decoration for your outdoor or indoor Christmas occasion!
If you're looking for an inflatable grinch to decorate your home at Christmas, the Grinch is a perfect choice. This beautiful inflatable has a 16 x 14 x 11 inches package dimensions and weighs 7.98 pounds.
The inflatable Grinch is perfect for indoor and outdoor use during the holiday season. It's easy to set up with a plug and stake and only takes seconds to self-inflate and deflate.
If you're looking for an affordable, unique gift that'll put a smile on anyone's face, then this inflatable Grinch with Christmas tree is the way to go!
Gemmy 111796 Pre-lit Grinch and Max On Sled Inflatable Scene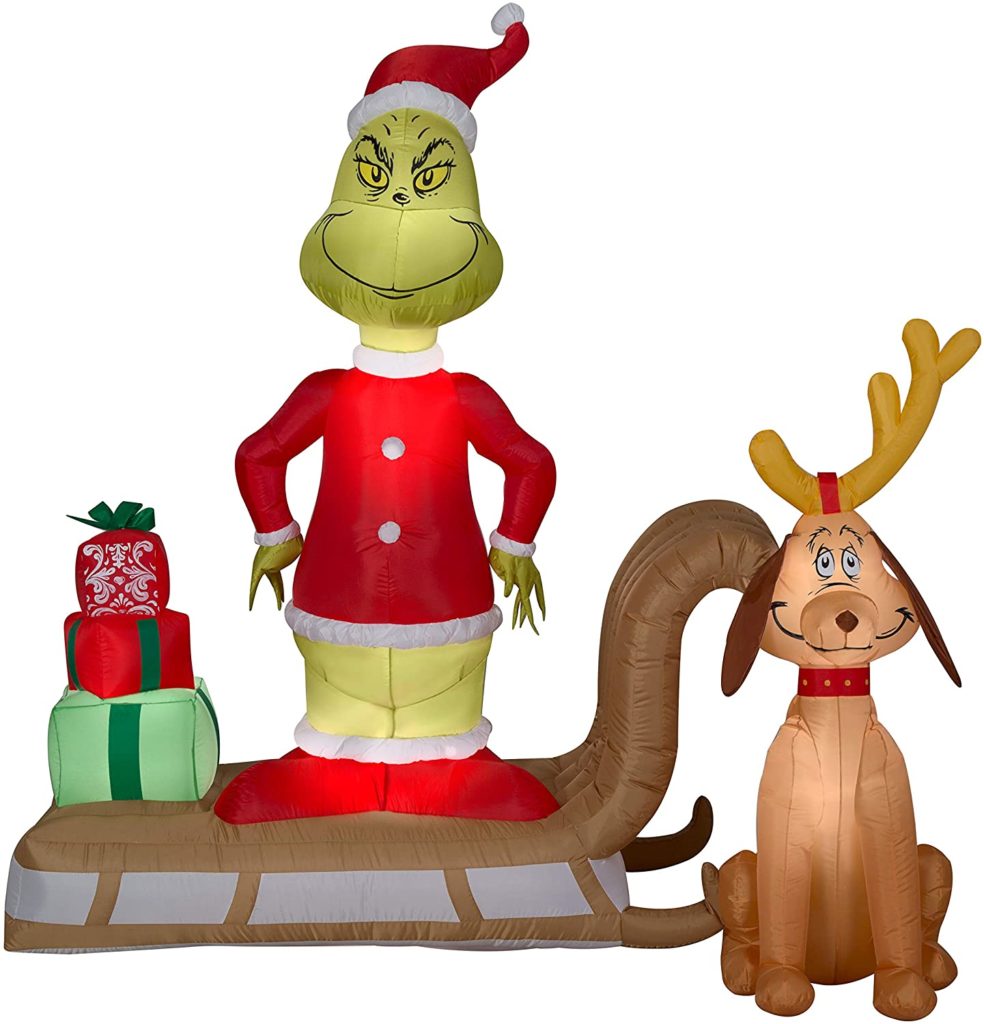 The Gemmy 111796 Grinch Inflatable is a perfect addition to your Christmas decor. It self-inflates in seconds and includes lawn stakes and tethers for quick and easy setup. The inflatable has dimensions of 72.05 inches x 33.86 inches x 71.26 inches, which makes it great for use indoors or outdoors during the holidays season!
The Grinch is made out of durable PVC material to withstand years of display and playtime.
The Gemmy Christmas grinch comes with pre-lit lights and includes lawn stakes and tethers for quick and easy setup. It can be used indoors or outdoors in any location where you would like a lot of festive cheer this holiday season!.
This inflatable comes with no additional parts or assembly required because it plug in, stakes down and the magic unfolds, it also comes with multi-color choice you can choose from.
Gemmy 81246 Airblown Grinch with Present Christmas Inflatable

The Gemmy 81246 Airblown Grinch with Present Christmas Inflatable is a beautiful decoration that can be used indoors and outdoors. It comes with led lights to make it eye-catching, and the self-inflate feature makes it easy for storage.
The Christmas inflatable decoration can be stored easily because of its self-inflate feature and compatibility. It's decked out for the season in a Santa suit and comes with an eye-catching addition to your Christmas decorations.
This Inflatable Grinches is a fun and festive decoration that has LED lights. It's the perfect Christmas accessory for indoors or out, especially in dark areas like garages and basements, back or front yard.
Inflatable Grinches are affordable and available for purchase. They come in a variety of sizes, colors, and styles to suit your Christmas needs including indoor or outdoor use.
The 4 ft tall inflatable grinch is perfect for indoor or outdoor use. It comes with a Christmas present that will delight children and adults alike!
Gemmy 19836 Airblown Grinch and Max in Sleigh Christmas Inflatable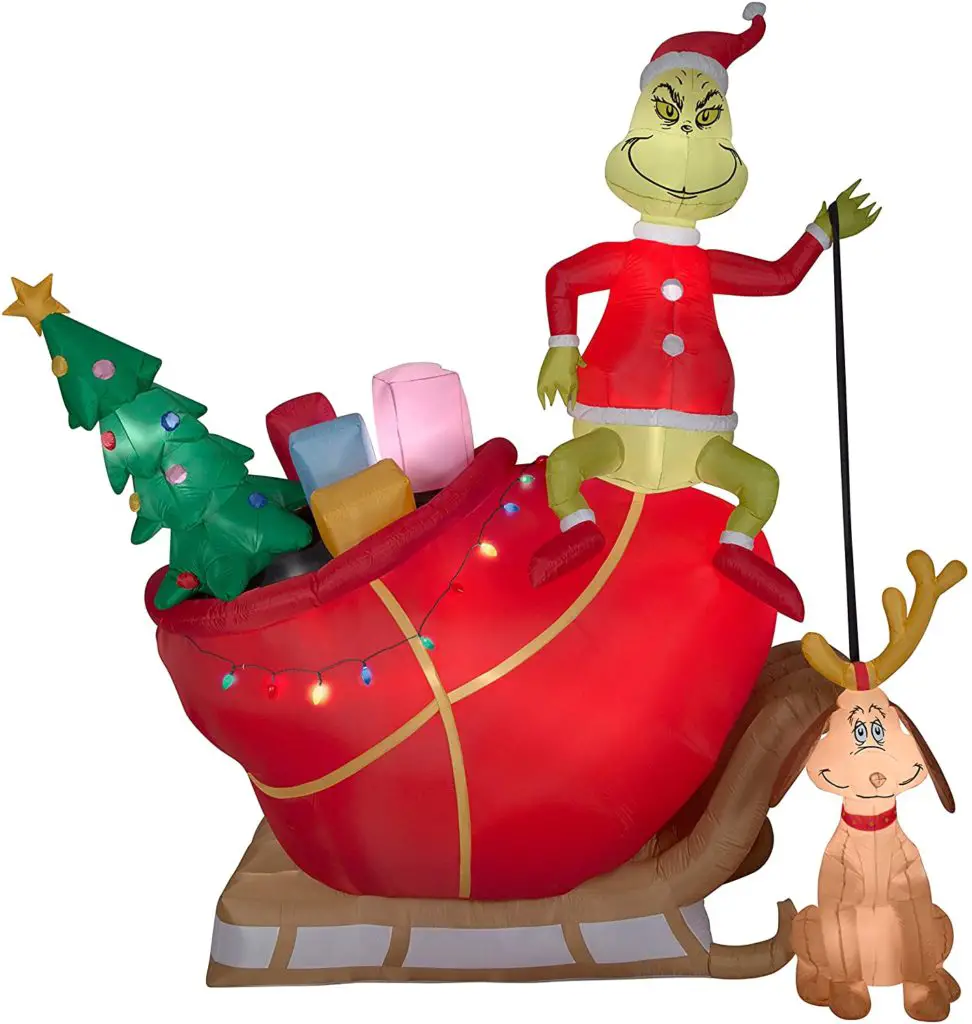 An inflatable Grinch is a Christmas decoration that can be placed indoors in the home, in the office, in restaurants, and in stores. These inflatables are so popular because they take up very little space when not inflated and come with different characters.
The airblown inflatable has a self-inflated design, so it is easy to set up. It can be used indoors or outdoors, making this ideal for any holiday event, from birthdays to parties.
The package also includes a grinch figure with a removable hat and gloves as well as three jolly reindeer that will bring joy into your home during the holiday season.