The best four person inflatable boat is one that can accommodate up to four people comfortably while still being able to navigate through the water with ease. There are many different inflatable boats on the market, but not all of them are created equal. When choosing an inflatable boat, it is important to consider the size, the weight capacity, material, and features.
An inflatable boat is a watercraft that can be inflated and used for transportation on water. Four-person inflatable boats are designed to seat and hold up to four people. These boats are usually made of PVC or rubber material and have an inflatable floor and sides. Four person inflatable boats are great for recreation and can be used for fishing, swimming, or exploring.
Choosing the right boat will depend on your needs and budget. For example, if you want something that is easy to carry and store, a small boat is perfect. If you need a boat for people of all ages, the 4-person inflatable boats will be great.
1. Intex Excursion 4 Inflatable Boats for 4 people review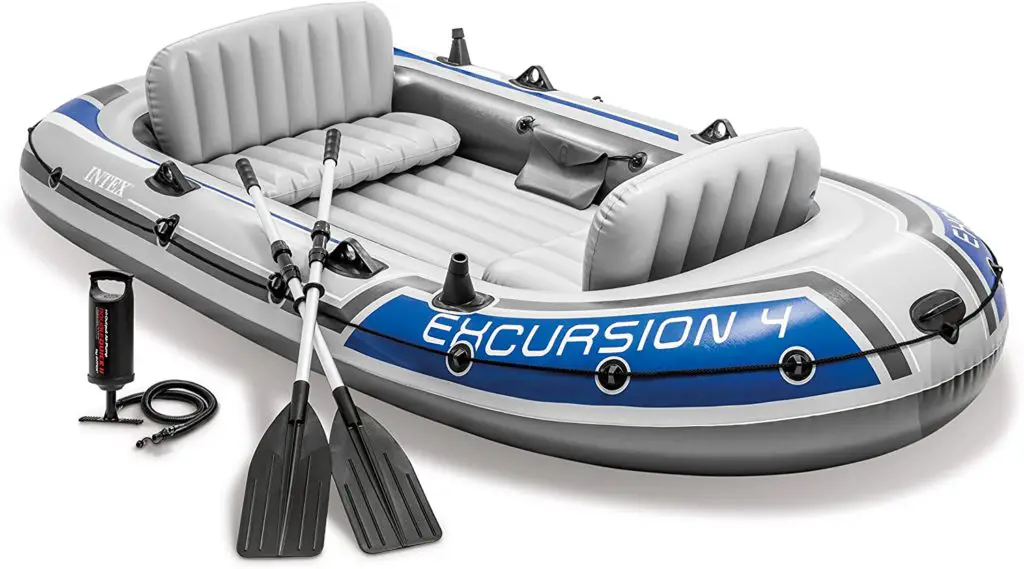 The Intex Excursion 4 inflatable boats are great for vacationers who want to explore the water with friends and family as they can accommodate up to 4 people. The boat is the most popular model of this brand, one of its advantage is that it comes with a carrying bag for easy transportation.
The material of the boat is extra durable and water-resistant, so this is a great boat for lakes and rivers. The best part about this inflatable is that four people can fit into it comfortably, making it the perfect choice for families who want to go out on the water.
Features
It has a rugged vinyl construction that makes it durable and easy to maintain, which means you won't have to worry about your investment getting damaged over time.
It also boasts several features that make it easy for you to enjoy including three air chambers with an automatic mechanism, a four-person capacity, and a cup holder included, so all your drinks are secure when you're on the water.
All-round handling and grab lines for easy boarding
I-Beam floor construction for rigidity
Boston valves for quick inflation and deflation
Heavy-duty puncture-resistant vinyl
Reasons to Buy Intex Excursion 4 person boat
The boat is lightweight.
The boat is easy to set up and transport.
There is plenty of space for four people to sit comfortably.
Works well with a trolling motor, at about 6-8mph speeds.
This boat is great for recreational purposes.
Boat weight capacity 1,100-pound maximum weight limit
Comes with essentials (oars, hand pump, bag)
Can be used for recreational, fishing purposes
Comes with Inflatable seat cushions with a backrest
Comes with 2 fishing rod holders
Comes with a repair kit
Reasons not to Buy
There are many complaints about the oars breaking, but they do feel weak.
The manufacturing facilities seem to have issues with quality control. Always check it straight away as the manufacturer's warranty only lasts for 90 days. They do offer replacements and refunds.
The Intex Excursion 4 is one of the best-selling inflatable boats because it offers everything you could want in a boat. It has a rugged vinyl construction that makes it durable and easy to maintain, which means you won't have to worry about your investment getting damaged over time.
This is the best boat for those who want a lot of room and comfort while on the water without compromising quality, durability, or safety.
2. Sea Eagle 9 Inflatable Boat For 4 Person
The Sea Eagle 9 Inflatable Boat is a lightweight, affordable fishing boat that can hold up to 4 people. It's made by a reputable company and has been around for over twenty years. This inflatable boat is perfect for those who enjoy fishing or just lounging on the lake by themselves with their friends.
The Sea Eagle 9 is a popular option for inflatable boats, with a max speed of 6 mph with a gas motor and 5 mph with electric motor speeds. It's easy to inflation and deflates as well, making it perfect for families or groups that want an affordable, sturdy boat at their disposal.
Reasons to Buy
The boat is lightweight and affordable.
The boat is stable and works great for small motors.
It has a simple, quick setup process.
It takes 15 minutes to inflate and deflate.
It is easy to carry and store in the included carrying bag.
The floor of the boat has a higher pressure, which helps make it more stable.
Three-year manufacturer warranty
High-pressure inflatable floor
I-beam reinforcement
Reasons not to Buy
Slow speed.
3. 4 people Inflatable Sport Boats Shark 9.8′ Model SB-300 – 2021 Model with Aluminum Floor Premium Heat Welded Dinghy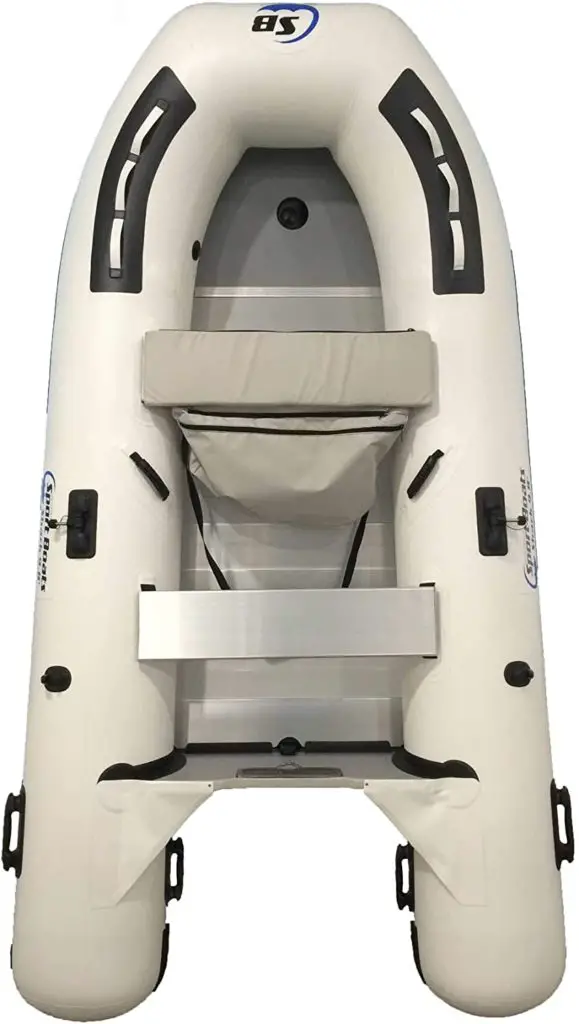 The Best 4 People Inflatable Sport Boats are the Shark 9.8′ Model SB-300 – 2021 Model with Aluminum Floor has a sleek white contoured design and can be used by up to four people. The "Easy Planing" extends the transom area, which allows for bigger, better motors and more maximum weight capacity. With a sleek white contoured design, these boats will help you stay cool on your next adventure!
Features
1100 denier reinforced PVC material
UV, oil stain, and puncture restraint
Coast Guard approved
24 mm easy slide aluminum floor
Deflated size: 70 lbs; 44 x 24 x 11 inches
Anchor Mounting
Reasons to Buy
It is easy to assemble or dissemble in 10 minutes.
It has an extended rear pontoon for more stability when in the water.
The material is durable.
The seams are guaranteed to last.
UV protection and oil stain resistance mean this product will last in any condition
The boat is USCG-approved.
The manufacturer provides certification of origin for boat registration.
3 Year Manufacturer Limited Warranty.
The dinghy is durable and the seats are removable and adjustable.
Designed in California, U.S.A based company
Inflatable Keel and V Hull make it easier to navigate in the water
It is easy to deflate the boat when not in use for storage purposes
The aluminum floor is easier to clean than marine plywood, making it less likely for the boat to get damaged by dirt or grime
The manufacturer helps you with immediate help in the California location.
Inflatable Sport Boats can be motorized.
Reasons not to Buy
Only one-way drain plug
4. Intex Seahawk Inflatable Boat Series For 4 people
The Intex Seahawk Inflatable Boat Series is a 4 person inflatable boat designed to be durable and provides all the features you need for a safe, convenient day on the water. It can accommodate four people easily and has an I.D., grabs handle, oarlocks, and oar holders. The boat includes welded oar holders, so even if one of your passengers doesn't have their own pair of oars they'll still be able to row alongside you in safety.
Reasons to Buy
The vinyl is thick, making it durable.
This boat is easy to maneuver with the oars provided.
The paddling is easy and fun.
The storage pouch makes it easy to take with you on the go.
The seats are comfortable for both sitting and standing up.
Motor mount fittings are included for the flexibility of adding the Intex motor bracket and trolling motor
Fishing and relaxing have never been easier with the two built-in fishing rod holders and gear pouch
The air chambers provide extra safety.
This boat is made of puncture-resistant PVC.
Reasons not to Buy
Does not come with an Aluminium floor.
Does not come with a manufacturer warranty.
An Inflatable Boat Buying Guide
An inflatable boat is a great option for people who want to enjoy the outdoors, but do not have room in their budget or living space for a rigid boat.
This buying guide will give you questions you should ask yourself before investing in a boat as well as which features to look out for when shopping for one. You may also be interested in looking at our other guides on how to choose between an inflatable canoe and kayak, and what factors go into choosing between an inflatable raft and a life jacket.
The blow-up boat should include a repair kit in the package, which includes patches for punctures, tears, and holes in the fabric of the boat.
The weights do matter, so ensure you buy what is suitable for you
Easy to transport and move around
Certainly made of high-quality material.
Manufacturer warranty to cover you for defects
They are boats for different purposes, so choosing the best boat for the occasion is the best way to go.
Should be easy to assemble.
How to maintain your 4 persons inflatable boat
Inflatable boats need to be UV protected just like your skin. The material used in the manufacturing process is different than most other materials and needs special care.
The inflatable boat should be sprayed with a protectant spray to keep the material from becoming faded and brittle.
Dry your inflatable boat thoroughly before storing it away for the season.
Make sure to store your inflatable boat in an airtight compartment that is free from dust, bugs, and other contaminants.
Occasionally cleaning your inflatable boat with a cleaner designed for its material will ensure that no buildup stays on long enough to damage the boat.
The bag should be inspected after each use to check for dirt or stains that can be cleaned off.