The best four person inflatable boat is one that can accommodate up to four people comfortably while still being able to navigate through the water with ease. There are many different inflatable boats on the market, but not all of them are created equal. When choosing an inflatable boat, it is important to consider the size, the weight capacity, material, and features.
An inflatable boat is a watercraft that can be inflated and used for transportation on water. Four-person inflatable boats are designed to seat and hold up to four people. These boats are usually made of PVC or rubber material and have an inflatable floor and sides. Four person inflatable boats are great for recreation and can be used for fishing, swimming, or exploring.
Choosing the right boat will depend on your needs and budget. For example, if you want something that is easy to carry and store, a small boat is perfect. If you need a boat for people of all ages, the 4-person inflatable boats will be great.
1. Intex Excursion 4 Inflatable Boats for 4 people review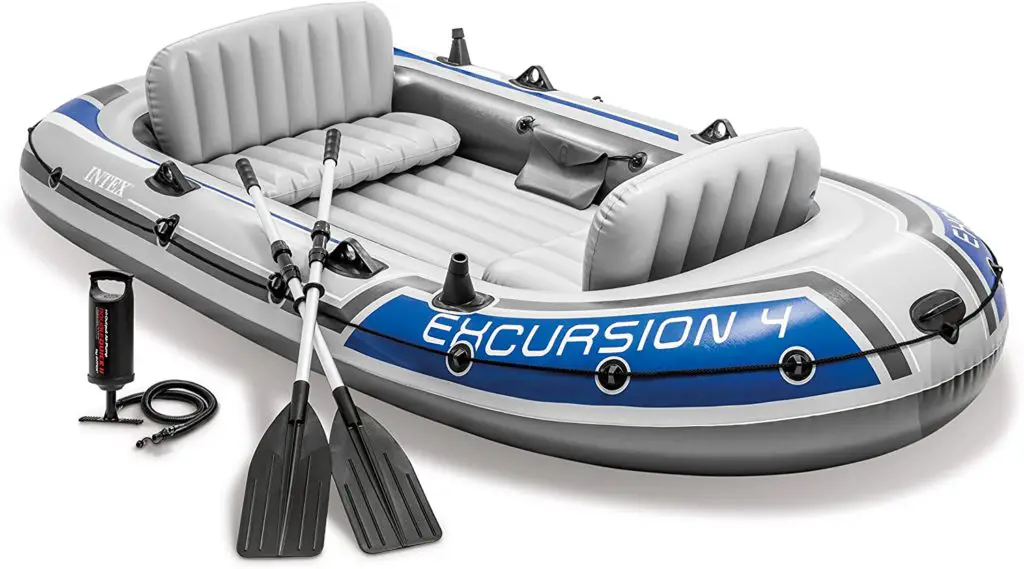 The Intex Excursion 4 inflatable boats are great for vacationers who want to explore the water with friends and family as they can accommodate up to 4 people. The boat is the most popular model of this brand, one of its advantage is that it comes with a carrying bag for easy transportation.
The material of the boat is extra durable and water-resistant, so this is a great boat for lakes and rivers. The best part about this inflatable is that four people can fit into it comfortably, making it the perfect choice for families who want to go out on the water.
Features
It has a rugged vinyl construction that makes it durable and easy to maintain, which means you won't have to worry about your investment getting damaged over time.
It also boasts several features that make it easy for you to enjoy including three air chambers with an automatic mechanism, a four-person capacity, and a cup holder included, so all your drinks are secure when you're on the water.
All-round handling and grab lines for easy boarding
I-Beam floor construction for rigidity
Boston valves for quick inflation and deflation
Heavy-duty puncture-resistant vinyl
Reasons to Buy Intex Excursion 4 person boat
The boat is lightweight.
The boat is easy to set up and transport.
There is plenty of space for four people to sit comfortably.
Works well with a trolling motor, at about 6-8mph speeds.
This boat is great for recreational purposes.
Boat weight capacity 1,100-pound maximum weight limit
Comes with essentials (oars, hand pump, bag)
Can be used for recreational, fishing purposes
Comes with Inflatable seat cushions with a backrest
Comes with 2 fishing rod holders
Comes with a repair kit
Reasons not to Buy
There are many complaints about the oars breaking, but they do feel weak.
The manufacturing facilities seem to have issues with quality control. Always check it straight away as the manufacturer's warranty only lasts for 90 days. They do offer replacements and refunds.
The Intex Excursion 4 is one of the best-selling inflatable boats because it offers everything you could want in a boat. It has a rugged vinyl construction that makes it durable and easy to maintain, which means you won't have to worry about your investment getting damaged over time.
This is the best boat for those who want a lot of room and comfort while on the water without compromising quality, durability, or safety.
2. Sea Eagle 9 Inflatable Boat For 4 Person
The Sea Eagle 9 Inflatable Boat is a lightweight, affordable fishing boat that can hold up to 4 people. It's made by a reputable company and has been around for over twenty years. This inflatable boat is perfect for those who enjoy fishing or just lounging on the lake by themselves with their friends.
The Sea Eagle 9 is a popular option for inflatable boats, with a max speed of 6 mph with a gas motor and 5 mph with electric motor speeds. It's easy to inflation and deflates as well, making it perfect for families or groups that want an affordable, sturdy boat at their disposal.
Reasons to Buy
The boat is lightweight and affordable.
The boat is stable and works great for small motors.
It has a simple, quick setup process.
It takes 15 minutes to inflate and deflate.
It is easy to carry and store in the included carrying bag.
The floor of the boat has a higher pressure, which helps make it more stable.
Three-year manufacturer warranty
High-pressure inflatable floor
I-beam reinforcement
Reasons not to Buy
Slow speed.
3. 4 people Inflatable Sport Boats Shark 9.8′ Model SB-300 – 2021 Model with Aluminum Floor Premium Heat Welded Dinghy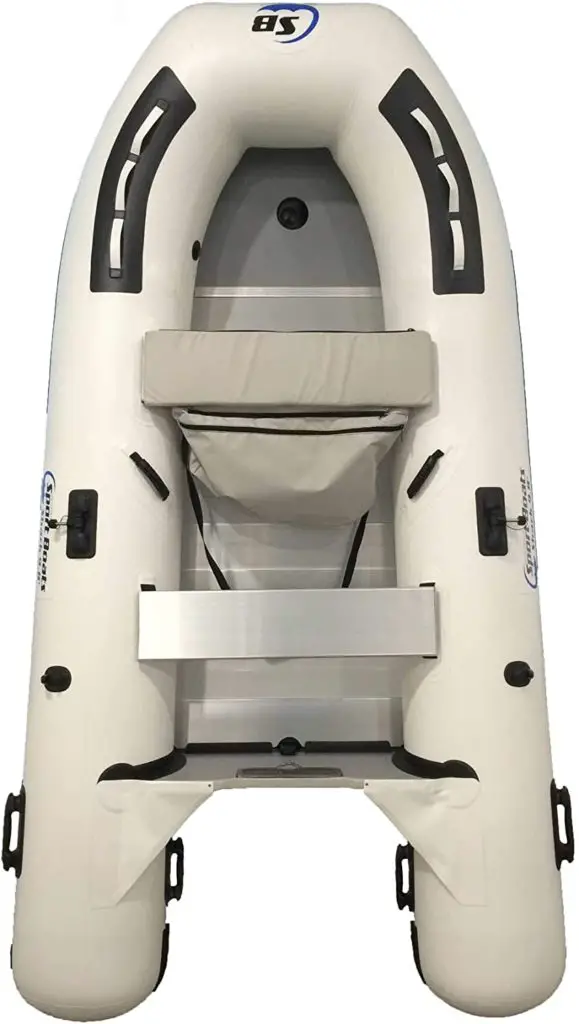 The Best 4 People Inflatable Sport Boats are the Shark 9.8′ Model SB-300 – 2021 Model with Aluminum Floor has a sleek white contoured design and can be used by up to four people. The "Easy Planing" extends the transom area, which allows for bigger, better motors and more maximum weight capacity. With a sleek white contoured design, these boats will help you stay cool on your next adventure!
Features
1100 denier reinforced PVC material
UV, oil stain, and puncture restraint
Coast Guard approved
24 mm easy slide aluminum floor
Deflated size: 70 lbs; 44 x 24 x 11 inches
Anchor Mounting
Reasons to Buy
It is easy to assemble or dissemble in 10 minutes.
It has an extended rear pontoon for more stability when in the water.
The material is durable.
The seams are guaranteed to last.
UV protection and oil stain resistance mean this product will last in any condition
The boat is USCG-approved.
The manufacturer provides certification of origin for boat registration.
3 Year Manufacturer Limited Warranty.
The dinghy is durable and the seats are removable and adjustable.
Designed in California, U.S.A based company
Inflatable Keel and V Hull make it easier to navigate in the water
It is easy to deflate the boat when not in use for storage purposes
The aluminum floor is easier to clean than marine plywood, making it less likely for the boat to get damaged by dirt or grime
The manufacturer helps you with immediate help in the California location.
Inflatable Sport Boats can be motorized.
Reasons not to Buy
Only one-way drain plug
4. Intex Seahawk Inflatable Boat Series For 4 people
The Intex Seahawk Inflatable Boat Series is a 4 person inflatable boat designed to be durable and provides all the features you need for a safe, convenient day on the water. It can accommodate four people easily and has an I.D., grabs handle, oarlocks, and oar holders. The boat includes welded oar holders, so even if one of your passengers doesn't have their own pair of oars they'll still be able to row alongside you in safety.
Reasons to Buy
The vinyl is thick, making it durable.
This boat is easy to maneuver with the oars provided.
The paddling is easy and fun.
The storage pouch makes it easy to take with you on the go.
The seats are comfortable for both sitting and standing up.
Motor mount fittings are included for the flexibility of adding the Intex motor bracket and trolling motor
Fishing and relaxing have never been easier with the two built-in fishing rod holders and gear pouch
The air chambers provide extra safety.
This boat is made of puncture-resistant PVC.
Reasons not to Buy
Does not come with an Aluminium floor.
Does not come with a manufacturer warranty.
5. HydroForce Caspian Pro 9'3″
The HydroForce Caspian Pro 9'3″ inflatable boat is a great device that is perfect for fishing, as it is UV-protected and can take on abrasions or injuries from pollutants. In addition, the durable strake protects the boat from docks when docking. This is a great inflatable speedboat that also makes for an ideal tender behind a yacht.
The boat is easy to transport and even easier to assemble requiring no tools! The floorboards are also easy to assemble and provide stability for its passengers. The boat accommodates a rigid floorboard with an inflatable keel for more stable performance and a high-pressure keel for its 4 chambers. Weighing only 7 pounds, this device is perfect for those looking for portability without sacrificing quality or performance.
Specs & Features
It features a sturdy construction that can handle the abuse of beginner and intermediate paddlers, and comes with all the accessories you need to get started right out of the box.
It has a stable platform that provides plenty of stability for beginners, while its sharp rails provide good tracking and maneuverability for more experienced paddlers. And thanks to its large size, it can accommodate up to 350 pounds, making it perfect for larger riders or groups.
6. Intex Excursion 5 Person Inflatable Boat Set
The Intex Excursion 5 Person Inflatable Boat Set is a great entry-level inflatable boat to consider. It can take on four people or a total maximum load of 1100 lbs. The Excursion boasts tough vinyl construction and an inflatable I-beam floor, plus two fishing rod holders, and a gear pouch. It inflates and deflates quickly, and a high output air pump is included with the purchase. Additional key features include inflatable seats with backrests, motor mount fittings, oar locks, oar holders, fishing rod holders, and sturdy grab handles for easy carrying.
It's one of the easiest inflatable boats that's fun on your wallet as well as a great way to spend time outdoors with friends and family members/ The price of the Intex Excursion 5 Person Inflatable Boat Set is $178.
7. AIRHEAD Angler Bay Inflatable Boat
Looking for a great family recreational boat that can also handle some light fishing? The AIRHEAD Angler Bay inflatable boat just might be the perfect option for you. This boat is available in three different sizes, so you can choose the one that best suits your needs. It's perfect for taking out on calm waters for a leisurely day of fishing or cruising around with friends and family.
The AIRHEAD Angler Bay is constructed from heavy-duty PVC material, so it's lightweight yet strong. It also has built-in oar holders and inflatable seats, making it comfortable and easy to use. Plus, the compact design means it's easy to store and transport when not in use.
The Angler Bay is best suited for smaller water bodies with clear waters that are less than 10 feet deep. So if that sounds like your kind of fishing spot, this inflatable boat is definitely worth checking out.
8. Intex Explorer 300
The Intex Explorer 300 is the cheapest inflatable boat on our list today. It's also one of the most colorful, with a sporty design and many features included. The high output manual pump for quick inflation once you reach the water comes included with the purchase of this boat. This boat can carry a weight of 410 lbs, but is stable in the water due to its soft inflatable floor. The Intex Explorer 300 is excellent for a day out on a lake fishing or just relaxing. At only $90 it's an excellent value for your money!
Specs & Features
It has a weight capacity of 350 pounds, making it perfect for larger paddlers, and comes with two directional stability fins and an oversized cockpit for easy entry and exit. The Explorer 300 is also outfitted with a comfortable seat and backrest, as well as adjustable foot braces to ensure a customized fit.
Our Overall Review
5 out of 5 stars. This rating is based on our experiences using it in different water conditions, as well as how easy it was to set up and take down.
It tracks well in most water conditions and has decent stability, which makes it a good choice for those who are just starting out or want to try kayaking in rougher waters. It also comes with everything you need to get started, including the paddle and storage bag, making it an affordable option.
And because it doesn't have many built-in features (e.g., cup holders), you'll have to bring your own along if you want them.
9. Bris 1.2mm PVC
The BRIS is made with durable materials, not just regular PVC. The BRIS has a 25 HP motor. Weight capacity: 1,675 lbs (760 kg).
This boat is a 15-foot inflatable with a 40 HP motor and aluminum framing. This boat has thick PVC fabric, a sturdy floor, and included accessories such as 2 seats and a foot pump.
The boat can support 6 people comfortably, even in the ocean (with a maximum of 25 HP).
10. Newport Vessels 20M1000017 8-Feet 10-Inch Dana Inflatable Sport Tender Dinghy Boat – USCG Rated (White/Gray)
This USCG-rated inflatable boat is a great choice for those looking for a durable and affordable option. The Newport Vessels 20M1000017 8-Feet 10-Inch Dana Inflatable Sport Tender Dinghy Boat is made from high-quality PVC fabric, with a weight of 107 pounds. It comes with an included electric trolling motor and three to 20 hp Outboard motors that are compatible with the boat. You'll receive one PVC boat hull (the model reviewed), and other materials such as repair patches and a foot pump in addition to the product itself.
The dinghy can seat up to three people and has a maximum carry capacity of 1,067 lbs. It's made out of PVC fabric with UV treatment and can reach speeds up to 20 mph when using a trolling motor.
11. Intex Mariner Inflatable Boat For Four people
The Intex Mariner inflatable is one of the best inflatable boats for sale in the market today and it is perfect for a small group of people. It has a weight capacity of 1100 pounds and is designed to hold four people. The boat is made from strong molecular material that resists damage from abrasion, impact, and sunlight. Additionally, it features Boston valves for quick-fills and fast deflations. It also comes with an inflatable keel which provides stability in the water, and an all-around nylon grab line ensures safe boarding and disembarking.
FAQs
Are inflatable boats safe?
Inflatable boats are just as safe, if not safer than traditional boats. The reason for this is that they are made of materials that are much more durable and reliable. The type of inflatable boat, the material it is made of, and how you take care of it will all affect its lifespan. For example, a PVC inflatable boat can last 2-10 years with proper care. If you're going to be using your inflatable boat in rough conditions, such as in the ocean, it's best to choose a rigid model that will be more stable on waves and windy conditions.
Though inflatable boats are unlikely to sink, it is still important to take care of them and not treat them recklessly. In fact, they aren't as susceptible to punctures as they seem. Even so, it is always a good idea to wear a life vest when in open waters just in case.
Are inflatable boats good for fishing?
In general, inflatable boats are good for fishing in calm waters, such as lakes and ponds. They are also a good choice for smaller fish, as they do not provide a lot of stability or space. If you are looking to go after larger fish or if you will be fishing in rougher waters, you may want to consider a more traditional boat design.
Can you add a motor to an inflatable boat?
Yes, an electric motor can be added to an inflatable boat. It is possible to add a small electric trolling motor or gas motor to an inflatable boat. The type of motor you choose will depend on the size and weight of your boat, as well as your own personal preferences but you will also need a boat mount.
5 Best Water Shoes for Toddlers and Kids
You'll also want something that is going to be comfortable enough for them to wear all day long. Here are five of the best water shoes that you can choose from:
Crocs Classic Clogs: These clogs are perfect for both toddlers and kids. They have a Croslite foam construction which makes them lightweight and comfortable. They also have a heel strap which will help keep them in place while they're playing in the water.
KEEN Newport H2 Sandals: These sandals are perfect for both beach and pool days. They feature a quick-dry upper material that will help keep your child's feet dry, as well as a metatarsal ridge that provides additional support.
Columbia Drainmaker III Trail Shoe: This trail shoe is perfect for rugged terrain near water sources. It features Omni-Grip wet traction technology which will help keep your child's foot planted on whatever surface they are walking on. It also has a Techlite midsole which provides superior cushioning and energy
One of the most important things is choosing a shoe that will keep their feet protected. You'll also want to find something that's comfortable and easy for them to wear. Here are five of the best water shoes for toddlers and kids:
Who should own an inflatable boat?
An inflatable boat is a great option for anyone looking for an affordable, portable boat that can be used for a variety of activities. Inflatables or blowups are perfect for fishing, swimming, and exploring. They are also a great choice for anyone who wants a boat that can be easily stored and transported.
Are inflatable boats in danger of sinking?
Inflatable boats are safe to use on the water and are a popular choice for boaters. Inflatable boats are durable and puncture resistant because they have multiple chambers of air within them. If a puncture does occur, only one chamber will lose air, which will not cause the entire boat to sink. It is also recommended that everyone on board wears a life jacket while in an inflatable boat.
How long will an inflatable boat last?
The expected lifespan of an inflatable boat varies depending on the quality of the boat, the frequency of use, and the type of care it receives. With proper care, an inflatable boat should last for several years.
If it is used more frequently, the life span will be shorter – perhaps 3-5 years. If the boat is constantly being moved in and out of the water or dragged on land, it will not last as long as one that is stored properly and only taken to the water when needed.
In general, following these tips will help your inflatable boat last longer:
– Store your boat in a cool, dry place
– Keep dirt and debris off the boats surface
– Avoid sharp objects when using, transporting, or storing your boat
How do you maintain an inflatable boat?
Inflatable boats need to be maintained in order to ensure that they continue to function properly and remain safe for use. Some key steps in maintaining an inflatable boat include:
– Checking the valves regularly for signs of wear or damage and replacing them if necessary.
– Checking the seams of the boat for any rips or tears and repairing them as needed.
– Cleaning the boat regularly with a mild soap and water solution.
– Drying the boat completely after use
You will need to check the valves regularly to make sure they are working properly and inflated the boat properly. Make sure to clean the boat after each use and store it in a dry place.
Can I transport these boats in my car?
Yes, depending on the size of your car or truck, you can transport boats in a number of ways. You can use a trailer, a pick-up truck bed, or even place them on the roof of your car.
Can I leave my inflatable boat out in the sun?
While technically you can, it is not recommended to leave your inflatable boat in the sun for a number of reasons, Inflatable boats are often made of material, which is susceptible to UV degradation. This means that if the boat is left in direct sunlight for any period of time, it will deteriorate quickly.
An Inflatable Boat Buying Guide
An inflatable boat is a great option for people who want to enjoy the outdoors, but do not have room in their budget or living space for a rigid boat.
This buying guide will give you questions you should ask yourself before investing in a boat as well as which features to look out for when shopping for one. You may also be interested in looking at our other guides on how to choose between an inflatable canoe and kayak, and what factors go into choosing between an inflatable raft and a life jacket.
The blow-up boat should include a repair kit in the package, which includes patches for punctures, tears, and holes in the fabric of the boat.
The weights do matter, so ensure you buy what is suitable for you
Easy to transport and move around
Certainly made of high-quality material.
Manufacturer warranty to cover you for defects
They are boats for different purposes, so choosing the best boat for the occasion is the best way to go.
Should be easy to assemble.
How to maintain your 4 persons inflatable boat
Inflatable boats need to be UV protected just like your skin. The material used in the manufacturing process is different than most other materials and needs special care.
The inflatable boat should be sprayed with a protectant spray to keep the material from becoming faded and brittle.
Dry your inflatable boat thoroughly before storing it away for the season.
Make sure to store your inflatable boat in an airtight compartment that is free from dust, bugs, and other contaminants.
Occasionally cleaning your inflatable boat with a cleaner designed for its material will ensure that no buildup stays on long enough to damage the boat.
The bag should be inspected after each use to check for dirt or stains that can be cleaned off.